T-Motor Pacer Alpha G4 Flight Controller – Analog 30.5×30.5
Features and Specifications:
T-Motor Pacer Alpha G4 Flight Controller: The Ultimate Analog Solution for Your FPV Drone
T-Motor Pacer Alpha G4 Introduction
At The FPV Project, we are thrilled to introduce the T-Motor Pacer Alpha G4 Flight Controller, an exceptional analog solution designed specifically for FPV (First Person View) drone enthusiasts. With its cutting-edge features, advanced technology, and unparalleled performance, the T-Motor Pacer Alpha G4 sets a new standard in the world of FPV flight controllers. In this article, we will delve into the remarkable features, benefits, and technical specifications of this outstanding flight controller, showcasing why it is the top choice for drone enthusiasts around the globe.
T-Motor Pacer Alpha G4 Unleash Your Drone's Full Potential
Unparalleled Precision and Stability
The T-Motor Pacer Alpha G4 Flight Controller harnesses the power of advanced algorithms and state-of-the-art sensors to provide unparalleled precision and stability during flight. Whether you're performing intricate maneuvers or capturing breathtaking aerial footage, this flight controller ensures your drone responds instantaneously to your commands, allowing you to fly with confidence and achieve unparalleled control over your aircraft.
Seamless Integration and Compatibility
With its versatile design and comprehensive compatibility, the T-Motor Pacer Alpha G4 Flight Controller seamlessly integrates with a wide range of drone platforms. Whether you're a seasoned FPV pilot or a professional aerial photographer, this flight controller is compatible with most popular frames, making it easy to upgrade your existing drone or build a new one from scratch. Experience the next level of flight control without the hassle of complex configurations or compatibility issues.
T-Motor Pacer Alpha G4 Analog Cutting-Edge Features
Advanced Analog Technology
The T-Motor Pacer Alpha G4 Flight Controller stands out from the competition with its utilization of advanced analog technology. Analog signals offer unparalleled responsiveness and real-time feedback, enabling precise control over your drone's flight characteristics. This flight controller takes advantage of the superior performance of analog signals, allowing you to experience smoother flights, reduced latency, and an overall enhanced FPV experience.
Intelligent Flight Modes
Equipped with intelligent flight modes, the T-Motor Pacer Alpha G4 Flight Controller empowers you with a range of automated features to simplify your flying experience. From customizable waypoint navigation to automatic return-to-home functionality, these intelligent flight modes allow you to focus on capturing stunning footage or executing intricate maneuvers while the flight controller handles the more routine aspects of flight.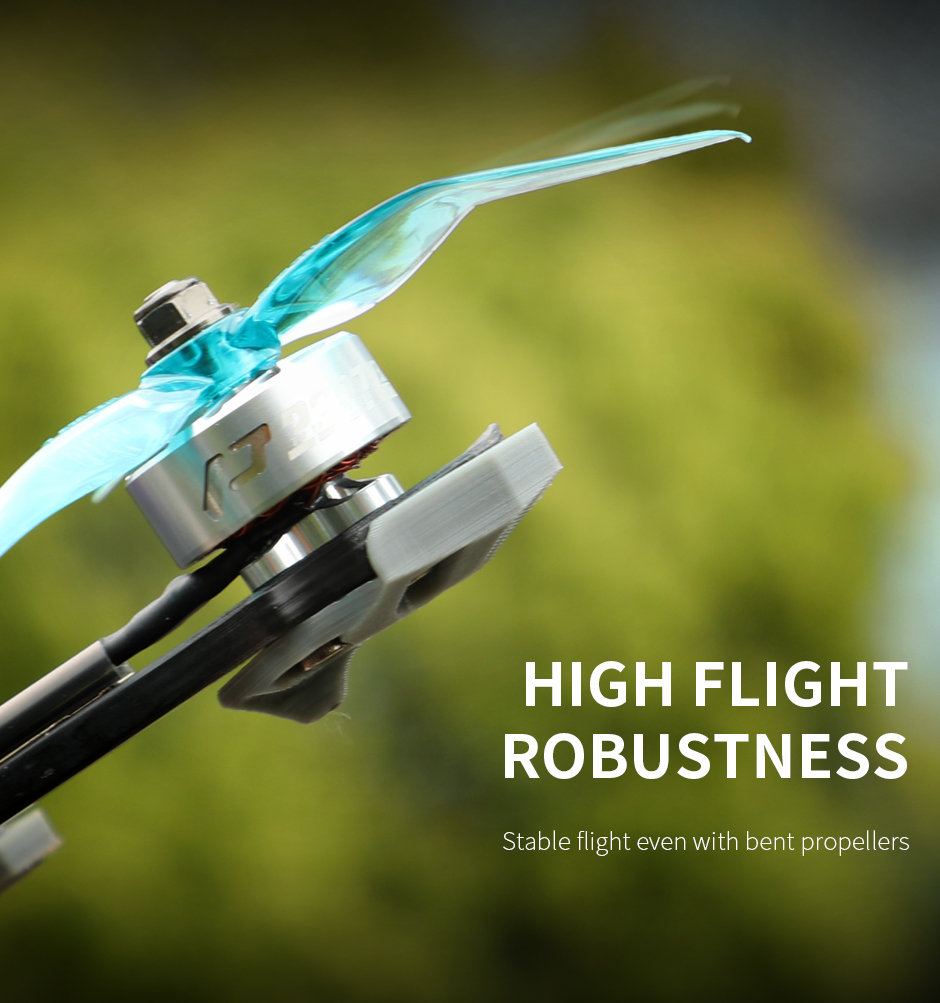 Robust Build Quality
Crafted with durability in mind, the TMotor Pacer Alpha G4 Flight Controller boasts a robust build quality to withstand the demands of FPV drone flying. The high-quality materials and meticulous engineering ensure the flight controller can endure rigorous flights, vibrations, and environmental conditions. Feel confident knowing that your drone's heart, the flight controller, is built to last and deliver exceptional performance every time you take to the skies.
Technical Specifications
For those who crave technical details, here are the specifications of the TMotor Pacer Alpha G4 Flight Controller:
Dimensions: 30.5×30.5mm (Standard Mounting)
Weight: 7g
Firmware: BetaFlight
Processor: STM32F405
Gyroscope: MPU6000
UART Ports: 4
Analog Input Channels: 4
OSD (On-Screen Display): Supported
Voltage Range: 2-6S LiPo
Conclusion
In conclusion, the TMotor Pacer Alpha G4 Flight Controller is the ultimate analog solution for FPV drone enthusiasts seeking top-tier performance, precision, and stability. With its cutting-edge features, seamless integration, and compatibility with popular drone platforms, this flight controller is a game-changer in the world of FPV. Elevate your flying experience to new heights with the T-Motor Pacer Alpha
FEATURES:
New Alpha firmware, let you super fly
The first one on the market with strong compatibility and high stability
Supports Dshot2400
Supports Analog Video OSD
Suitable for 5′ fpv freestyle drone
SPECIFICATIONS:
Input voltage: 3-6S
MCU:STM32G473
Gyro: IIM-42652
BEC:5V2A
OSD:STM32G071
Firmware: Fettec Alpha
Size: 37*37*4.6mm
Mounting hole position: 30.5*30.5/M3 (including
shock absorbing ring)
Recommended ESC: T-Motor P60A V2
PACKAGE INCLUDES:
1 x TMotor Pacer Alpha G4 Analog Fettec Alpha Flight Controller – 30.5×30.5mm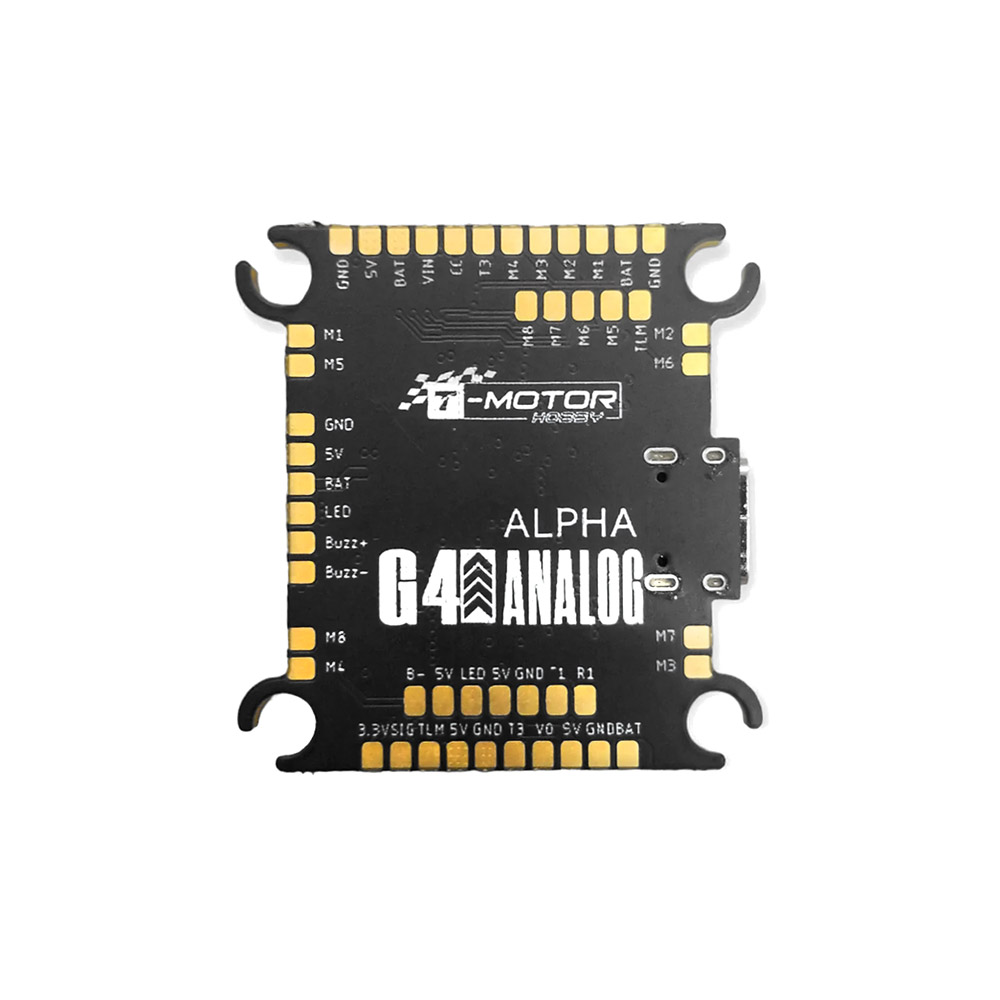 Read More About Lipo Batteries by clicking the link below:
https://oscarliang.com/fpv-drone-guide/
Checkout our Frames Collection by clicking the link below:
https://thefpvproject.com/product-category/frames/
1S = 1 cell  = 3.7V
2S = 2 cells = 7.4V
3S = 3 cells = 11.1V
4S = 4 cells = 14.8V
5S = 5 cells = 18.5V
6S = 6 cells = 22.2V
For example, we call a 14.8V battery a "4-cell" or "4S" battery.
LiPo battery is designed to operate within a safe voltage range, from 3V to 4.2V. Discharging below 3V could cause irreversible performance loss and even damage to the battery. Overcharging above 4.2V could be dangerous and eventually cause a fire.
However, it's advisable to stop discharging when it reaches 3.5V for battery health reasons. For example for a 3S Lipo, the max voltage is 12.6V, and you should land when the voltage reaches 10.5V (at 3.5V per cell).