HGLRC Sector X5 FR 5-inch Freestyle FPV Frame Specifications and Features:
Unleashing Ultimate FPV Performance: HGLRC Sector X5-FR 5-Inch Freestyle FPV Frame
Welcome to our in-depth guide on the remarkable HGLRC Sector X5-FR 5-Inch Freestyle FPV Frame! If you're an FPV enthusiast seeking unparalleled performance and an electrifying freestyle experience, you've landed in the right place. In this comprehensive article, we delve into the intricacies of the HGLRC Sector X5-FR, uncovering its exceptional features, build quality, compatibility, and more. Let's soar through the details and unleash the true potential of your FPV journey.
1. Introduction
The HGLRC Sector X5-FR 5-Inch Freestyle FPV Frame stands as a testament to cutting-edge engineering and innovative design. Crafted to cater to the demands of FPV freestyle aficionados, this frame promises to redefine the boundaries of performance and durability.
2. Design and Build Quality
The Sector X5-FR's design is a masterpiece of form meeting function. Its sleek lines and carefully engineered structure optimize aerodynamics, granting you unrivaled agility and control during freestyle flights. The frame is precision-cut from high-grade materials, ensuring impeccable build quality that can withstand the most intense maneuvers and crashes.
3. Uncompromising Durability
When the stakes are high, durability becomes non-negotiable. The Sector X5-FR is designed to endure the rigors of FPV freestyle, boasting reinforced arms and a chassis that can shrug off impacts with ease. This robustness minimizes downtime, allowing you to spend more time soaring through the skies and less time on repairs.
4. Optimal Weight Distribution
Achieving the perfect balance is essential for flawless flight performance. The Sector X5-FR's meticulously calculated weight distribution enhances stability and maneuverability, enabling you to execute precise aerial acrobatics with confidence.
5. Enhanced Flight Dynamics
Experience flight like never before. The Sector X5-FR's advanced engineering optimizes the frame's center of gravity, resulting in dynamic and responsive flights. Whether you're executing flips, rolls, or intricate tricks, this frame empowers you to push your limits and explore new horizons.
6. Ease of Installation
We understand that time spent building should be minimized, while time spent flying should be maximized. The Sector X5-FR's user-friendly design streamlines the installation process, allowing you to get airborne faster. Spend less time assembling and more time conquering the skies.
7. Compatibility with Electronics
The FPV community thrives on innovation, and the Sector X5-FR embraces this ethos. This frame accommodates a wide range of electronics, offering flexibility in choosing your components. Whether you're a tech enthusiast or a performance purist, the Sector X5-FR adapts to your preferences.
The HGLRC Sector X5 FR is a 5″ Freestyle FPV Frame with a Wide X configuration. Take your freestyle flights to the next level with this durable frame! This frame features quick swap arms for easy electronic fixes and CNC aluminum side plates.
VIDEO: HGLRC Sector X5/D5 Frames Overview
Features
A fixed power outlet for convenience and protecting your power cable from cutting by propellers
CNC aluminum side plates combined with 3D printed parts to make your drone look dope!
Dust-proof straps covering both sides to better protect your rig and keep them clean
Replaceable arms for quick disassembly without taking apart the whole frame
Wide X Configuration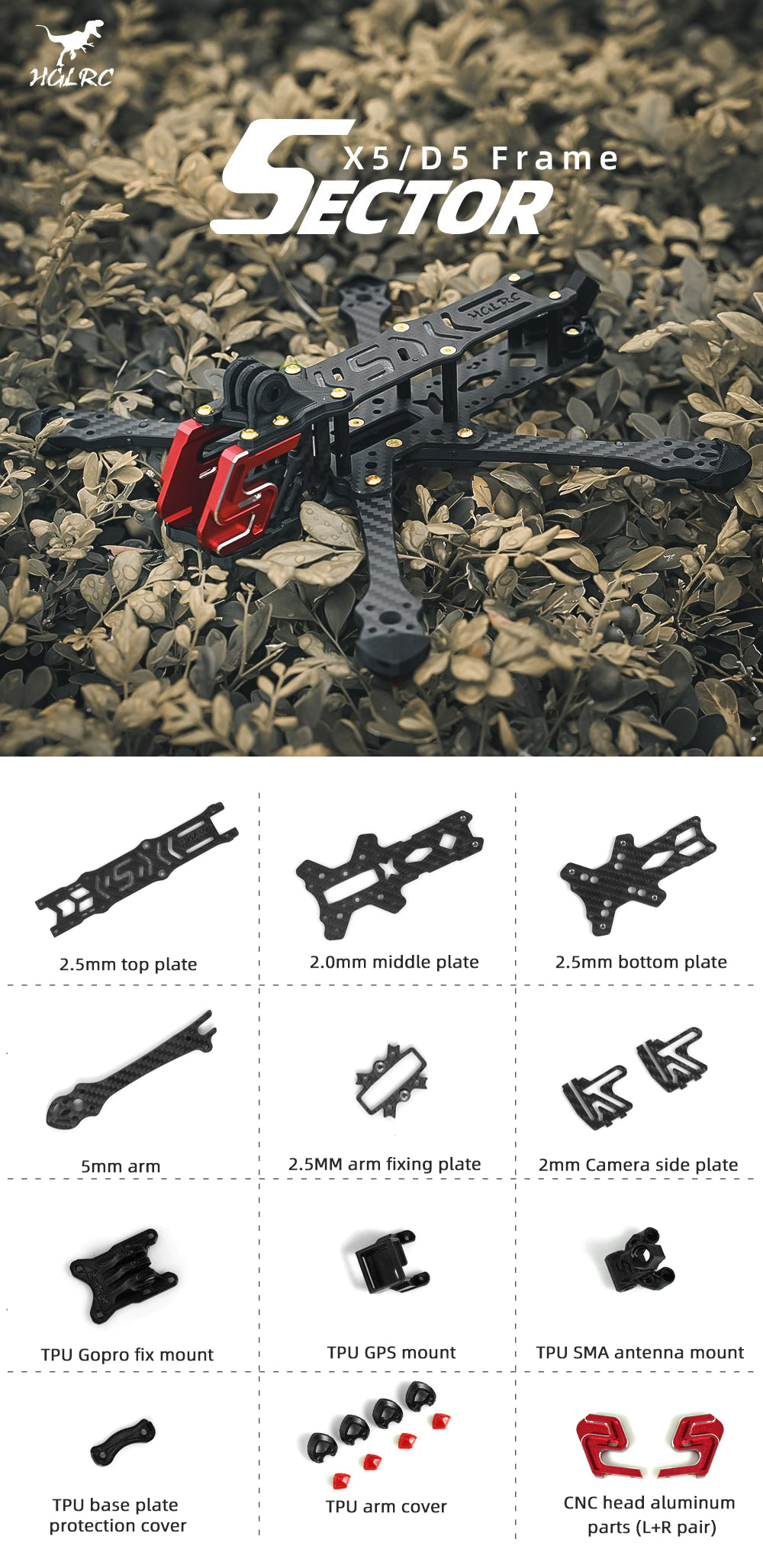 Specifications:
FC Mounting Hole: 30.5mmx30.5mm/20x20mm M3
Top and middle plate space: 25mm
Model: Sector X5 Freestyle Frame
Motor Mounting Hole: M3X16
Camera mount :19 x 19mm
Material :3K Carbon Fiber
Brand Name: HGLRC
Bottom Plate: 2.5 mm
Wheelbase: 210mm
Size: 189x178mm
Middle plate: 2 mm
Top plate: 2.5 mm
Weight: 120g
Type: 5-inch
Recommended (Not Included):
STACK: ZEUS F745 MINI
FC: ZEUS F722 MINI
Camera:19 x 19mm
Motor: 22XX / 23XX
Propeller:5 inches
Includes:
1x Frame head CNC aluminum parts (one pair)
1x TPU black base plate protection cover
1x TPU black SMA antenna mount
1x TPU Black GOPRO fix mount
1x Screw Accessory package
2x Battery straps 20x250mm
4x TPU black arm protection
2x 2mm Camera side panel
1x TPU black GPS mount
1x 2.5mm Arm fixing plate
1x Battery Anti-slip pad
1x 2.5 mm Base plate
1x 2 mm Middle plate
1x 2.5 mm Top plate
4x TPU Red footpad
4x 5mm Arm
CHECK OUT OUR VTX COLLECTION:
What is a Video Transmitter?
https://www.easytechjunkie.com/what-is-a-video-transmitter.htm
VTX stands for video transmitter, this is the heart of the FPV life system. Pumping life into the many possibilities of FPV. VTXs come in many different shapes, sizes, strengths, and wiring setups. Strapped to the front of the quad is an FPV camera, and strapped to the head is a pair of FPV goggles. You can watch live, instantaneous footage right from the cockpit because the VTX is sending the footage received from the camera out to the goggles.
You are picking the right VTX for you. This will start with knowing if size and weight are factors for you. If you are planning to race, and only race, then you will select any VTX that is light in weight. It's probably important that your VTX can do pit mode and channel control (depending on which one you choose). This may be a smart audio feature or the tramp protocol. Pit mode is where you will be able to set your VTX to a certain mode that allows you to power up your quad without powering up your VTX to keep you from blasting video and trampling over other racers on the track. Channel control allows you to change your frequency right from your radio for easy switching at a race, or to prepare your quads for the race the next day. Seeing that range is not so much of a factor in a race, only 25mw is allowed, and all that you need. So you can pretty much pick any when it comes to figuring out which is best for you and your power output needs.