HGLRC Sector D5 FR 5″ FPV Frame Kit – DeadCat Specifications and Features:
About this product:
The HGLRC Sector D5 FR is a 5″ Freestyle FPV Frame with DeadCat configuration. Take your freestyle flights to the next level with this durable frame! This frame features quick swap arms for easy electronic fixes and CNC aluminum side plates.
Unleash Your FPV Potential with the HGLRC Sector D5 FR 5-Inch Freestyle FPV Frame
Welcome to a new era of FPV freestyle flying with the HGLRC Sector D5 FR 5-Inch Freestyle FPV Frame. Our cutting-edge frame is designed to elevate your FPV experience to unprecedented heights, delivering unparalleled performance, durability, and style. In this comprehensive guide, we'll delve into the intricate details of the HGLRC Sector D5 FR, revealing how it stands as a pinnacle in the world of FPV frames.
Introducing the HGLRC Sector D5 FR: Pushing Boundaries, Defining Excellence
Precision Engineering for Unrivaled Performance
The HGLRC Sector D5 FR boasts precision engineering that sets it apart from the competition. Crafted with meticulous attention to detail, this frame is optimized for exceptional performance. Each component is carefully selected and integrated to provide the perfect balance of power, agility, and control.
Uncompromising Durability: Built to Last
Durability is a non-negotiable aspect when it comes to FPV freestyle frames, and the HGLRC Sector D5 FR doesn't disappoint. Constructed with high-quality materials, including robust carbon fiber, this frame can withstand the harshest crashes and the most demanding flights. Say goodbye to the days of constantly replacing frames – the HGLRC Sector D5 FR is built to last.
Advanced Features: Redefining Your FPV Experience
Aerodynamic Design for Maximum Maneuverability
The aerodynamic design of the HGLRC Sector D5 FR is a game-changer for FPV pilots. Its sleek profile slices through the air with minimal resistance, allowing you to execute intricate maneuvers with ease. Whether you're diving, flipping, or racing through tight spaces, this frame's design gives you the edge you need to outmaneuver the competition.
Modular Layout: Customization at Your Fingertips
Modularity is key for FPV enthusiasts who want to tailor their setup to perfection. The HGLRC Sector D5 FR features a modular layout that enables effortless customization. From camera placement to antenna mounting, you have the flexibility to configure your frame according to your preferences. This adaptability ensures that your FPV experience is uniquely yours.
Installation Guide: Bringing Your FPV Vision to Life
Step 1: Prepare Your Components
Before you begin, ensure you have all the necessary components for your FPV build. Gather your motors, ESCs, flight controller, camera, and other peripherals.
Step 2: Frame Assembly
Start by laying out the frame plates and arms.
Attach the arms to the frame using the provided hardware.
Secure the flight controller in the designated area using vibration-absorption mounts.
Connect the ESCs to the arms and the flight controller.
Mount the camera in the adjustable housing, ensuring proper alignment.
Attach the antenna to the designated mount.
Step 3: Fine-Tuning and Configuration
Power up the components to ensure proper connectivity.
Use your preferred software to configure the flight controller settings.
Calibrate the ESCs and ensure the motors are spinning correctly.
Fine-tune the camera angle for optimal field of view.
Perform a thorough pre-flight check to verify all components are functioning as intended.
Elevate Your FPV Experience with HGLRC Sector D5 FR
In conclusion, the HGLRC Sector D5 FR 5-Inch Freestyle FPV Frame represents a paradigm shift in FPV technology. Its blend of performance, durability, and customization options make it an unbeatable choice for pilots seeking the ultimate FPV experience. Say goodbye to limitations and hello to limitless possibilities with the HGLRC Sector D5 FR.
Remember, success in FPV starts with the right equipment. Choose the HGLRC Sector D5 FR and soar to new heights. Experience FPV like never before.
VIDEO: HGLRC Sector X5/D5 Frames Overview:
Features
A fixed power outlet for convenience and protecting your power cable from cutting by propellers
CNC aluminum side plates combined with 3D printed parts to make your drone look dope!
Dust-proof straps covering both sides to better protect your rig and keep them clean
Replaceable arms for quick disassembly without taking apart the whole frame
DeadCat Configuration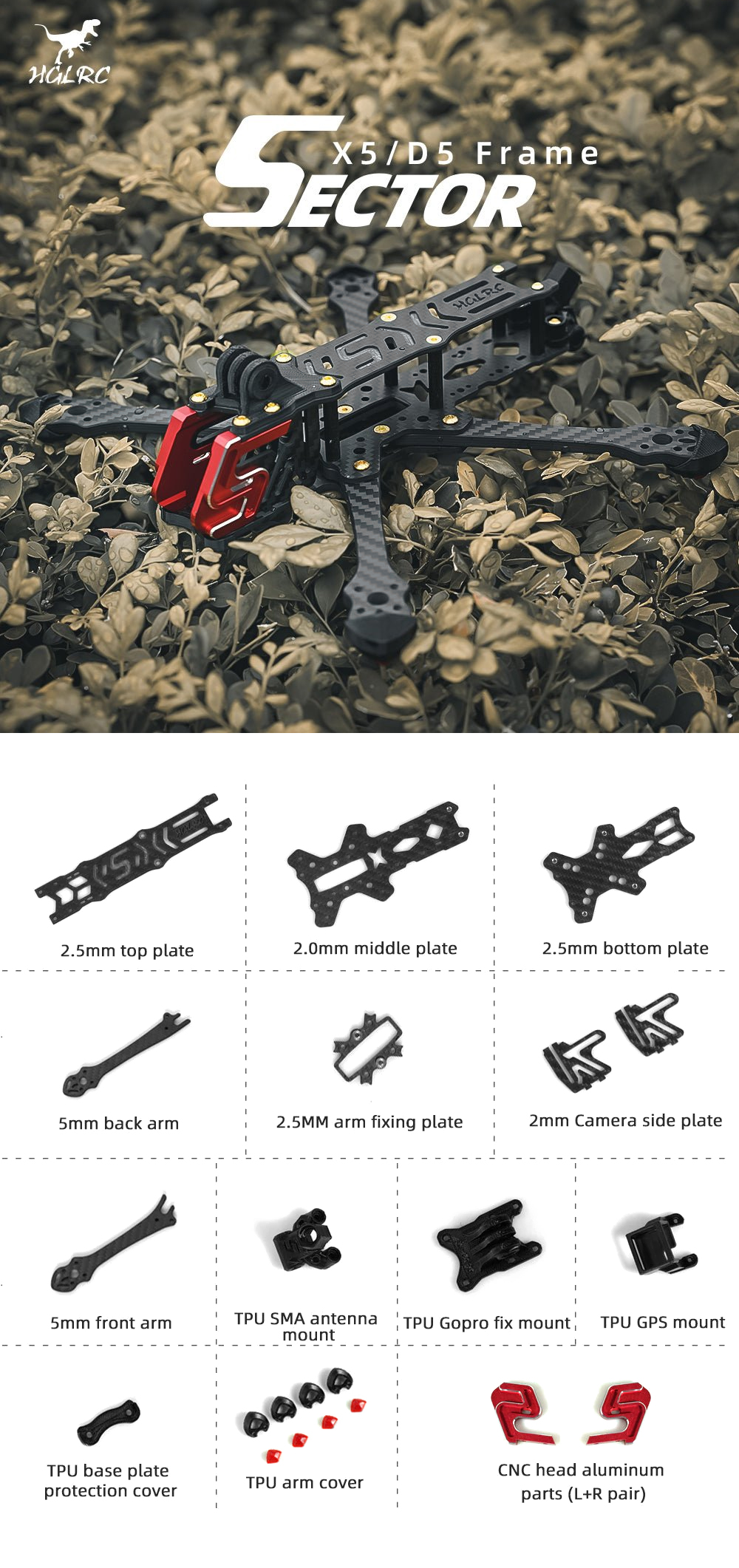 Specifications:
FC mounting hole :30.5mmx30.5mm/20x20mm M3
Top and middle plate space:25mm
Model: Sector D5 Freestyle Frame
Motor mounting hole: M3X16
Camera mount :19 x 19mm
Material :3K Carbon Fiber
Brand name: HGLRC
Bottom plate: 2.5 mm
Wheelbase:225 mm
Size:230 * 184 mm
Middle plate: 2 mm
Top plate: 2.5 mm
Weight: 121.7g
Type:5-inch
Recommended (Not Included):
STACK: ZEUS F745 MINI
FC: ZEUS F722 MINI
Camera:19 x 19mm
Motor: 22XX / 23XX
Propeller:5 inches
Includes:
1x Frame head CNC aluminum parts (one pair)
1x TPU black base plate protection cover
1x TPU black SMA antenna mount
1x TPU Black GOPRO fix mount
1x Screw Accessory package
2x Battery straps 20x250mm
4x TPU black arm protection
2x 2mm Camera side panel
1x TPU black GPS mount
1x 2.5mm Arm fixing plate
1x Battery Anti-slip pad
1x 2.5 mm Base plate
1x 2 mm Middle plate
1x 2.5 mm Top plate
4x TPU Red footpad
2x 5 mm black Arm
2x 5 mm front Arm
CHECK OUT OUR VTX COLLECTION:
What is a Video Transmitter?
https://www.easytechjunkie.com/what-is-a-video-transmitter.htm
VTX stands for video transmitter, this is the heart of the FPV life system. Pumping life into the many possibilities of FPV. VTXs come in many different shapes, sizes, strengths, and wiring setups. Strapped to the front of the quad is an FPV camera, and strapped to the head is a pair of FPV goggles. You can watch live, instantaneous footage right from the cockpit because the VTX is sending the footage received from the camera out to the goggles.
You are picking the right VTX for you. This will start with knowing if size and weight are factors for you. If you are planning to race, and only race, then you will select any VTX that is light in weight. It's probably important that your VTX can do pit mode and channel control (depending on which one you choose). This may be a smart audio feature or the tramp protocol. Pit mode is where you will be able to set your VTX to a certain mode that allows you to power up your quad without powering up your VTX to keep you from blasting video and trampling over other racers on the track. Channel control allows you to change your frequency right from your radio for easy switching at a race, or to prepare your quads for the race the next day. Seeing that range is not so much of a factor in a race, only 25mw is allowed, and all that you need. So you can pretty much pick any when it comes to figuring out which is best for you and your power output needs.