Cinematic Style FPV Tshirt – S M L XL 2XL 3XL
Cinematic Style FPV TShirt | Perfect for Professional and Budding FPV Cinematographers
Looking for a t-shirt that represents your passion for FPV cinematography? Check out our Cinematic Style FPV Tshirt! Designed for professional and budding FPV cinematographers, this t-shirt not only looks great but also offers comfort and durability. Made with high-quality fabric and designed with a sleek cinematic graphic, this t-shirt is perfect for showing off your skills in the field or in casual settings. Shop now and show off your cinematic style!
Drone Racing T-Shirt Features:
Premium Quality: Made with high-quality, comfortable materials that will last wash after wash.
Stylish Design: Features a stylish and eye-catching design that perfectly captures the spirit of FPV cinematography.
Perfect Fit: Available in a range of sizes and designed to fit perfectly on any body type, providing a comfortable and flattering fit.
Breathable Fabric: Made with breathable fabric that will keep you cool and comfortable during long flying sessions.
Machine Washable: Easy to clean and maintain, the Cinematic Style FPV T-shirt is machine washable and designed to withstand repeated washings.
Great Gift Idea: This makes a great gift for any FPV enthusiast, whether they're a seasoned professional or a budding cinematographer just starting out.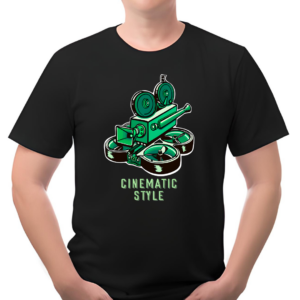 Discover the Best Selection of FPV Frames – Shop Now
An FPV drone frame is the backbone of your drone's build, providing stability and structure for the rest of the components. At the FPV Project, we offer a wide range of FPV drone frames for sale that cater to both beginners and seasoned pilots, providing a foundation for building high-performance racing and freestyle drones. With our selection of FPV frames, you can customize and build your drone to your exact specifications and take your flying skills to the next level.
Learn More About Carbon Fiber!
https://en.wikipedia.org/wiki/Carbon_fiber_reinforced_polymer
Carbon fiber is a popular material choice for FPV drone frames due to its strength, durability, and lightweight properties.
Carbon fiber frames provide a higher strength-to-weight ratio than traditional materials, resulting in better performance and maneuverability.
Carbon fiber composites are resistant to impacts and vibrations, which helps to protect the drone's sensitive electronics and maintain stability during flight.
The use of carbon fiber materials in FPV drones also enables faster acceleration, higher speeds, and longer flight times, resulting in a better overall experience for the pilot.
Carbon fiber is also an excellent thermal conductor, helping to dissipate heat generated by high-powered motors and batteries, thus preventing damage to the drone's components.
FPV drone enthusiasts should consider carbon fiber frames when purchasing a new drone or upgrading their existing one to achieve optimal performance and durability.
Carbon fiber frames are available in a range of sizes and configurations, suitable for different types of drones, including racing, freestyle, and long-range drones.
When purchasing a carbon fiber frame, consider factors such as weight, stiffness, and compatibility with other components to ensure the best performance for your FPV drone.
Carbon fiber frames may be more expensive than other frame materials, but their long-lasting durability and performance benefits make them a worthwhile investment for serious FPV drone pilots.
The FPV Project offers a wide range of carbon fiber frames, suitable for all types of FPV drones, ensuring that enthusiasts have access to the latest technology and the best possible flying experience.