Foxeer Goggles Headband/Headstrap Adjustable FPV Specifications and Features:
Goggles Headband: If you're into FPV (first-person view) flying, you know the importance of having a good set of goggles. The right set of goggles can make or break your flying experience. Not only do they need to provide a clear view of what's ahead, but they also need to be comfortable and secure on your head. That's where the Foxeer DJI Fatshark Goggles Antiskid Ventilated Strap comes in.
This strap is designed to improve your FPV experience by providing a comfortable and secure fit. It features an antiskid design that keeps the goggles firmly in place, even during extreme maneuvers. The ventilated design ensures that your head stays cool and comfortable, even during long flights.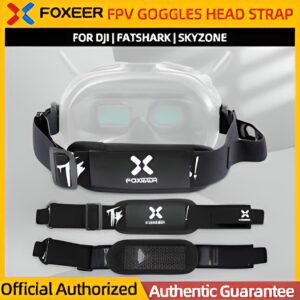 Foxeer Goggles Headband Authentic Guarantee:
The Foxeer Goggles Headbank DJI Fatshark Goggles Antiskid Ventilated Strap is also designed to be easy to use. It's adjustable, so you can get the perfect fit for your head. Plus, it's compatible with a variety of different goggles, including the popular Fatshark and DJI goggles.
One of the great things about this strap is that it's made from high-quality materials. It's durable and built to last, so you can use it for countless flights without worrying about it wearing out or breaking.
If you're looking to upgrade your FPV goggles, the Foxeer DJI Fatshark Goggles Antiskid Ventilated Strap is an excellent option. It's comfortable, secure, and easy to use, making it the perfect addition to any pilot's kit. So why wait? Order yours today and take your flying experience to the next level!
Read More About Lipo Batteries by clicking the link below:
https://oscarliang.com/fpv-drone-guide/
Checkout our Frames Collection by clicking the link below:
https://thefpvproject.com/product-category/frames/
1S = 1 cell  = 3.7V
2S = 2 cells = 7.4V
3S = 3 cells = 11.1V
4S = 4 cells = 14.8V
5S = 5 cells = 18.5V
6S = 6 cells = 22.2V
For example, we call a 14.8V battery a "4-cell" or "4S" battery.
LiPo battery is designed to operate within a safe voltage range, from 3V to 4.2V. Discharging below 3V could cause irreversible performance loss and even damage to the battery. Overcharging above 4.2V could be dangerous and eventually cause a fire.
However, it's advisable to stop discharging when it reaches 3.5V for battery health reasons. For example for a 3S Lipo, the max voltage is 12.6V, and you should land when the voltage reaches 10.5V (at 3.5V per cell).