Introducing the AXISFLYING Cineon C20: The Ultimate 2-Inch Indoor Cinewhoop Frame Kit for Cinematic Shooting
In the fast-evolving realm of cinematic shooting and drone cinematography, the AXISFLYING Cineon C20 takes center stage as the ultimate 2-inch indoor cinewhoop frame kit. Crafted with precision and designed for excellence, this exceptional frame kit redefines the possibilities of capturing breathtaking cinematic shots within indoor environments. In this comprehensive article, we delve into the remarkable features, design intricacies, and unparalleled advantages of the AXISFLYING Cineon C20.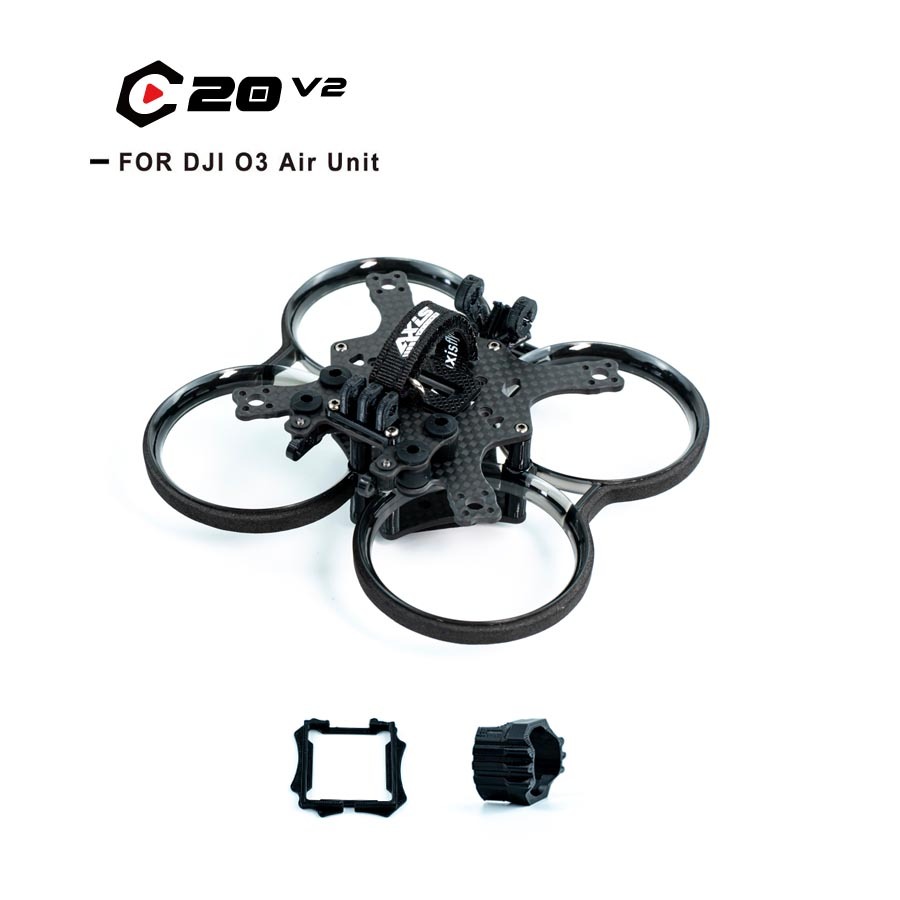 The Evolution of Cinematic Shooting: Cinewhoops Take the Lead
The world of cinematic shooting has witnessed a revolutionary transformation with the advent of cinewhoop drones. These compact yet powerful drones have become indispensable tools for capturing dynamic and immersive footage in confined spaces. With the AXISFLYING Cineon C20, a new pinnacle of excellence is reached, enabling filmmakers and drone enthusiasts to unlock their creativity in indoor environments.
Unveiling the AXISFLYING Cineon C20: Features that Set It Apart
1. Innovative Frame Design
The AXISFLYING Cineon C20 boasts an innovative frame design meticulously engineered for optimal performance. Its lightweight yet robust structure ensures both durability and agility, making it a perfect companion for intricate indoor flights.
2. Advanced Propulsion System
Equipped with an advanced propulsion system, this cinewhoop frame kit delivers unrivaled stability and control. The carefully selected and tuned components guarantee smooth and precise maneuvers, allowing you to capture shots that were once considered challenging.
3. Efficient Propeller Guards
Safety is paramount, especially when navigating through tight indoor spaces. The Cineon C20 integrates efficient propeller guards that provide protection not only to the drone but also to the surroundings. This thoughtful feature minimizes the risk of collisions and ensures a worry-free filming experience.
4. High Definition Camera Mounting
A crucial aspect of cinematic shooting is the quality of the camera footage. The AXISFLYING Cineon C20 accommodates high-definition cameras, offering a stable platform for capturing crystal-clear visuals. Whether you're using it for professional filmmaking or casual creative projects, the results speak for themselves.
Elevating Cinematic Possibilities: The AXISFLYING Advantage
1. Seamless Maneuverability
Navigate through complex indoor settings with unparalleled ease. The Cineon C20's responsive controls and precise handling empower filmmakers to execute intricate flight paths effortlessly.
2. Immersive Cinematic Shots
Capture cinematic shots that immerse viewers in the heart of the action. From sweeping panoramic views to intimate close-ups, the AXISFLYING Cineon C20 enables you to elevate your storytelling and create visuals that leave a lasting impact.
3. Unmatched Versatility
While optimized for indoor flights, the AXISFLYING Cineon C20 isn't confined to a single environment. Seamlessly transition from indoor to outdoor shooting, enjoying the same level of performance and reliability across different scenarios.
The Pathway to Unprecedented Cinematic Excellence
As the demand for captivating cinematic content continues to rise, the AXISFLYING Cineon C20 emerges as a game-changer in the world of indoor cinematography. Its state-of-the-art features, precision engineering, and commitment to pushing boundaries converge to redefine what's possible in indoor cinematic shooting.
Are you ready to take your filmmaking endeavors to new heights? Embrace the AXISFLYING Cineon C20 and embark on a journey of unparalleled cinematic excellence. Elevate your storytelling, capture the extraordinary, and make your mark in the realm of indoor cinematography.
CINEON series are born for cinematic. The C20 cinewhoop drone is designed for cinematic indoor shooting and funny flying. Axisflying researched cinewhoop marketing and discussed it with some pilots.  C20 has a special structure design that motor installation adopts two positive and two reverses.
– C20 drone has very good performance, stable flying feel, low noise, and gets about 5mins flying time
– C20 is lightweight ,it is sub250g fpv level
*Feature
      – Motor installation adopts two positive and two reverse designs – Guaranteed efficiency and higher explosiveness
      – Better wind resistance for smoother footage – C135 Motor, more torque and power
      – Provide adequate security for the whoop – High-performance 20A/F411 AIO
      – Newly designed ducted aerodynamic layout to effectively reduce flight noise
      – Independent receiver storage, convenient for binding
*Specs
– Wheelbase:94mm  /  Weight: 42.8g (with all TPU) /  Carbon Fiber: T700  /  Props: Max 2inch
*Recommended Configuration
– MOTORS:  Axisflying C135-5500KV @4S
– Lipos: Tattu / GNB 450mah – 650mah
– AIO: Over 20A / F411
– Propellers: Gemfan Props 2023-3
– Flying time: 3'30" with Insta360   /  5′ without takeoff
NOTE: HD drone outside flying with GNB 550mah

CHECK OUT OUR VTX COLLECTION:
What is a Video Transmitter?
https://www.easytechjunkie.com/what-is-a-video-transmitter.htm
VTX stands for video transmitter, this is the heart of the FPV life system. Pumping life into the many possibilities of FPV. VTXs come in many different shapes, sizes, strengths, and wiring setups. Strapped to the front of the quad is an FPV camera, and strapped to the head is a pair of FPV goggles. You can watch live, instantaneous footage right from the cockpit because the VTX is sending the footage received from the camera out to the goggles.
You are picking the right VTX for you. This will start with knowing if size and weight are factors for you. If you are planning to race, and only race, then you will select any VTX that is light in weight. It's probably important that your VTX can do pit mode and channel control (depending on which one you choose). This may be a smart audio feature or the tramp protocol. Pit mode is where you will be able to set your VTX to a certain mode that allows you to power up your quad without powering up your VTX to keep you from blasting video and trampling over other racers on the track. Channel control allows you to change your frequency right from your radio for easy switching at a race, or to prepare your quads for the race the next day. Seeing that range is not so much of a factor in a race, only 25mw is allowed, and all that you need. So you can pretty much pick any when it comes to figuring out which is best for you and your power output needs.