VELOX F55 PRO II 32Bit 55A 3-6S 4-in-1 ESC Features and Specifications:
Unleashing Performance: Introducing the F55A Pro II 4-in-1 ESC
Welcome to the ultimate guide on the VELOX F55 PRO II 4-in-1 ESC – the pinnacle of electronic speed controllers designed to propel your drone experience to new heights. We take pride in offering the latest and greatest in drone technology, and the F55A Pro II is no exception. In this comprehensive guide, we delve into the intricate details and exceptional features that make the F55A Pro II a game-changer in the world of FPV drones.
VELOX F55 PRO II  The Powerhouse Behind the Performance
The F55A Pro II 4-in-1 ESC boasts unparalleled power and efficiency, revolutionizing the way FPV enthusiasts experience speed and control. With its advanced MOSFET technology, this ESC delivers a seamless current flow to your drone's motors, translating to smoother accelerations and lightning-fast response times. Whether you're cruising through intricate racecourses or performing daring acrobatics, the F55A Pro II ensures your drone operates at peak performance.
Exceptional Heat Dissipation
Heat management is crucial for prolonged drone operation, and the F55A Pro II addresses this concern with finesse. Engineered with a robust heatsink and thermal pads, this ESC effectively dissipates heat generated during intense flights. Say goodbye to overheating issues that can compromise performance – the F55A Pro II's thoughtful design keeps your drone flying cool, no matter how intense the action gets.
VELOX F55 PRO II  Intelligent PWM Control
Precision control is a hallmark of the F55A Pro II, thanks to its intelligent PWM control system. This technology optimizes the communication between your flight controller and motors, resulting in ultra-responsive adjustments and fluid maneuvers. Whether you're executing sharp turns or maintaining a steady altitude, this ESC ensures your commands are executed with utmost accuracy.
Plug-and-Play Simplicity
Setting up your drone's components shouldn't be a cumbersome task, and the F55A Pro II acknowledges this. Featuring a plug-and-play design, installation becomes a breeze even for those new to the FPV world. The ESC's user-friendly connectors eliminate guesswork, allowing you to focus on what matters most – pushing the boundaries of flight.
The T-motor F55 Pro II is a high performance ESC for the most demanding pilots. With carefully selected materials and a modest PCB layout, it will provide stable flight and reliability under load.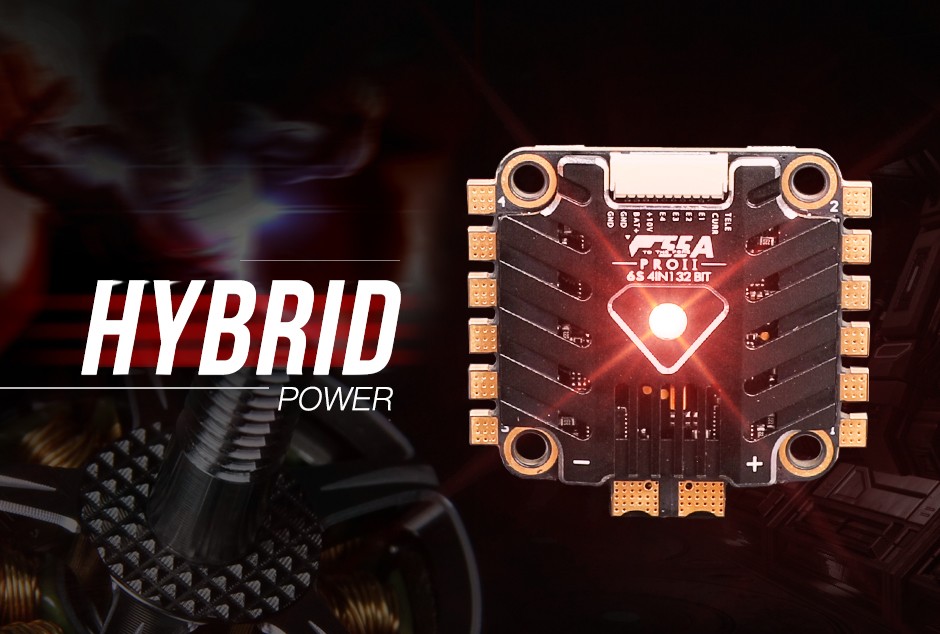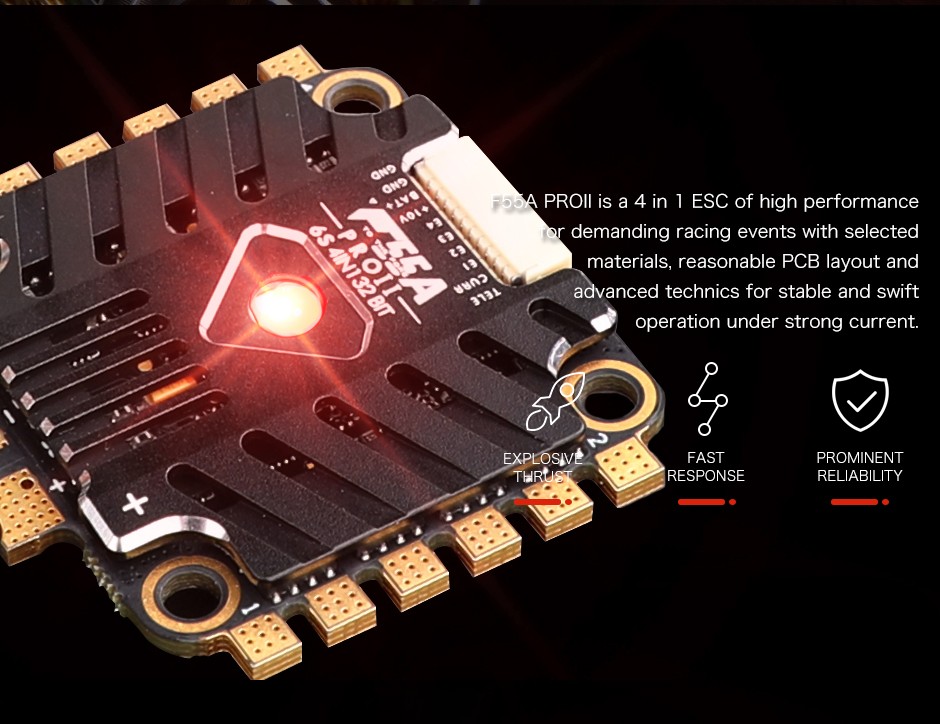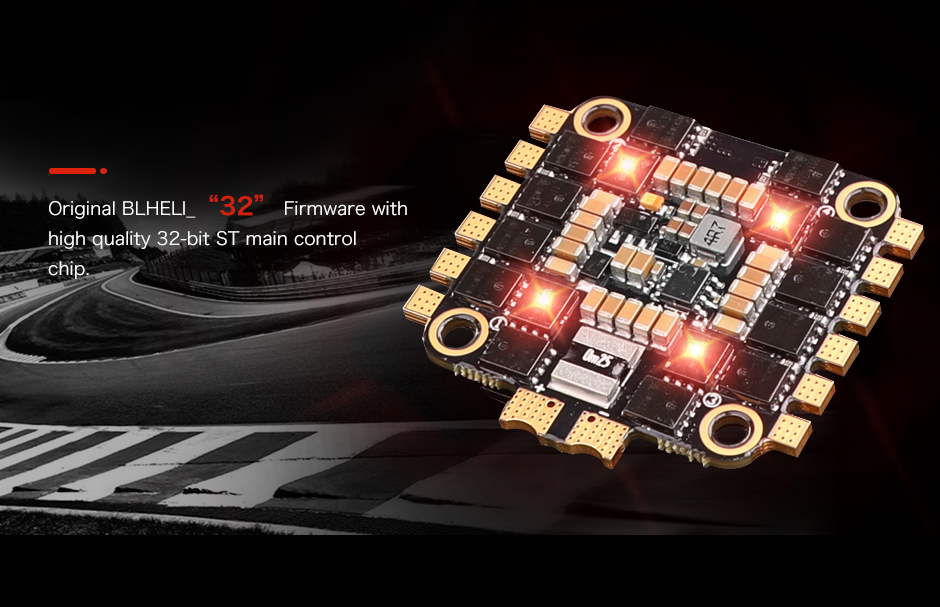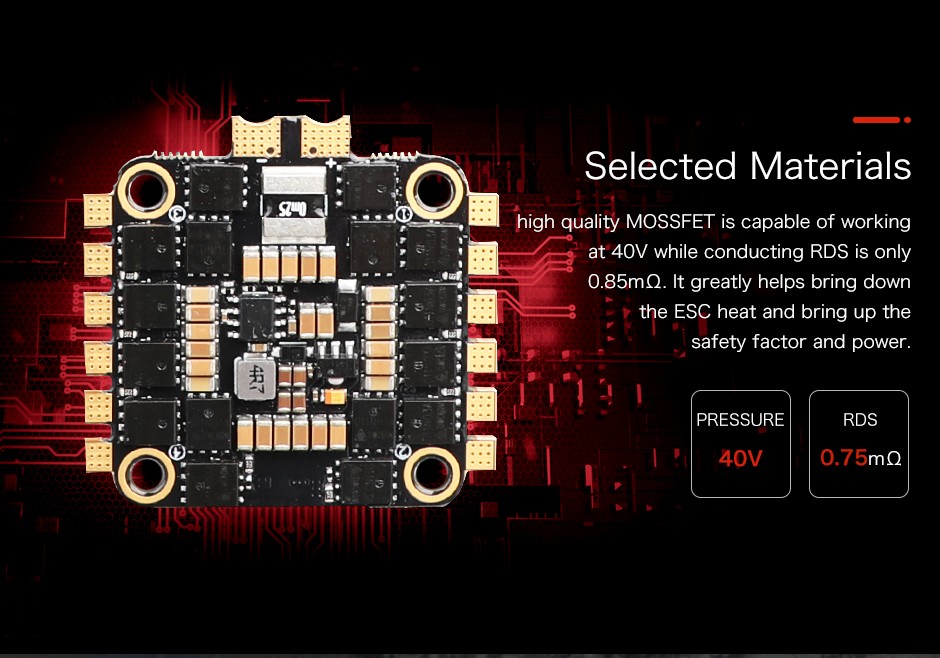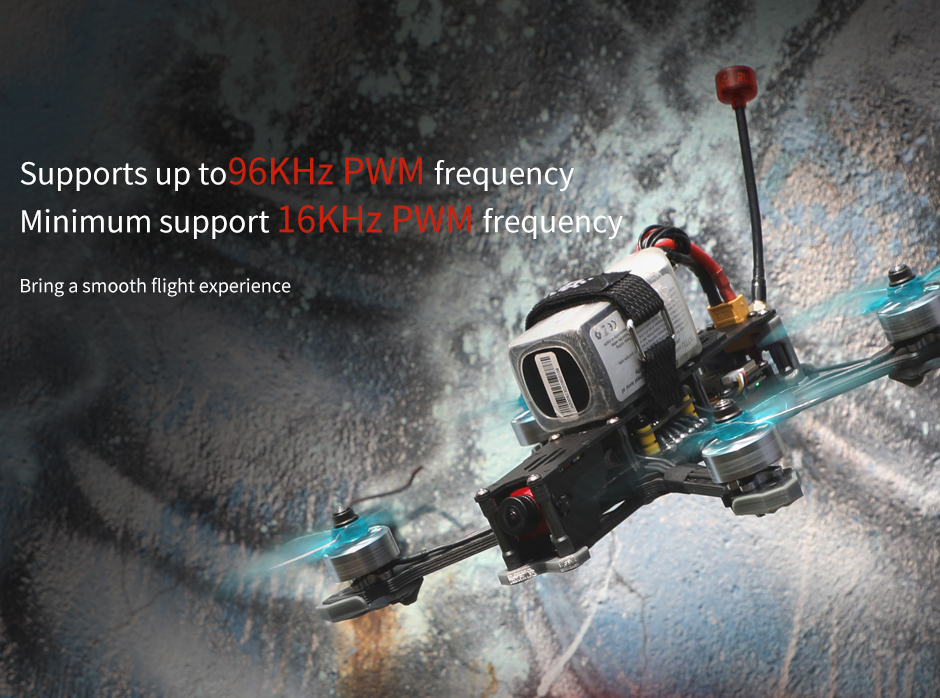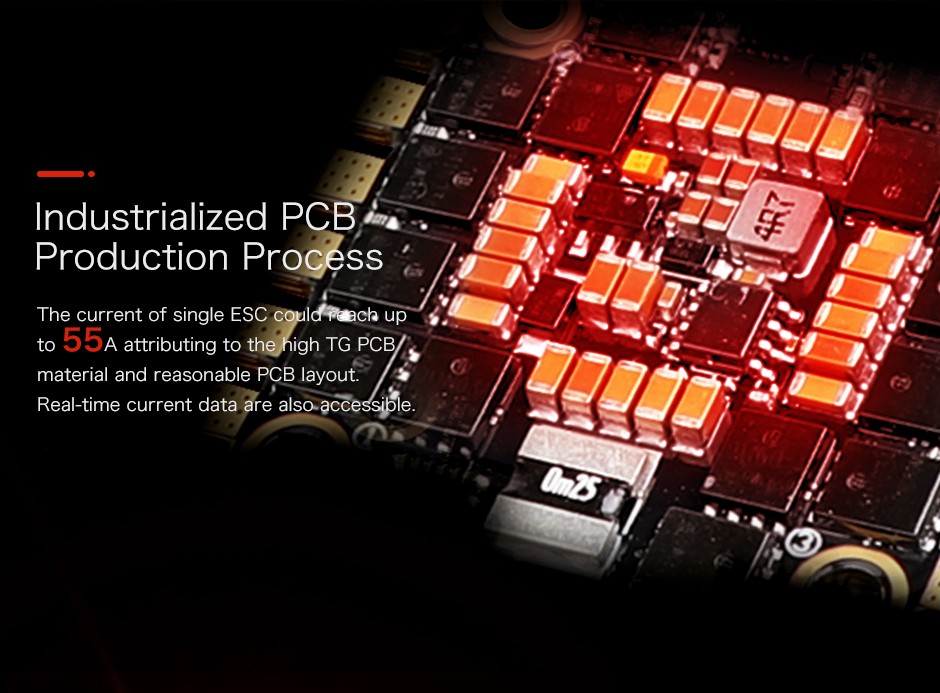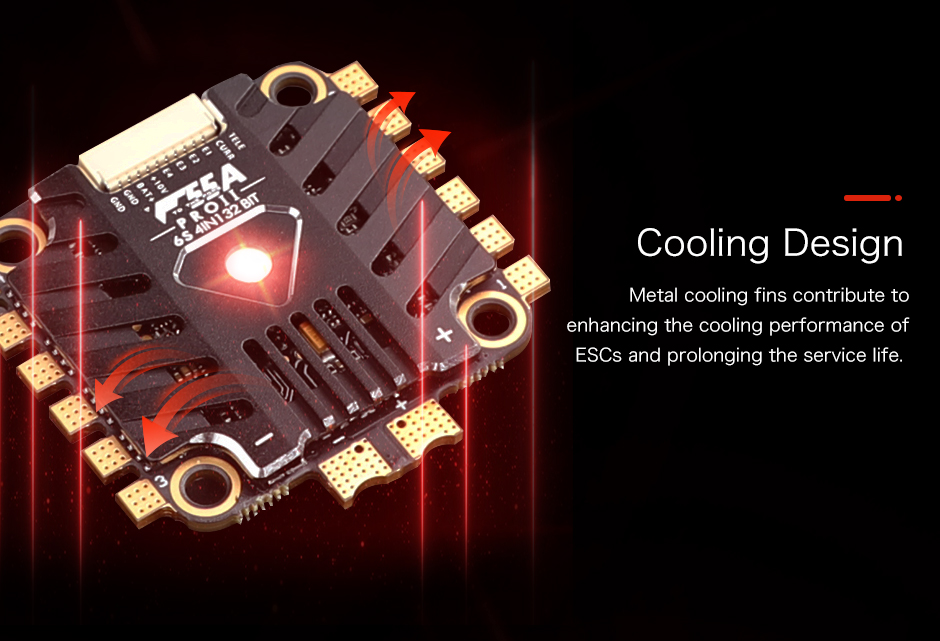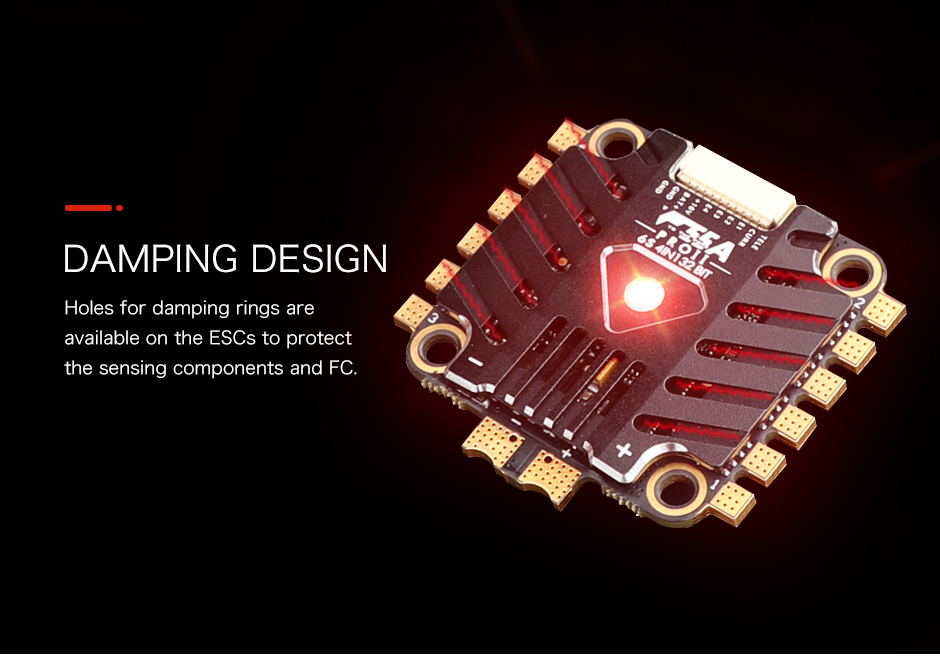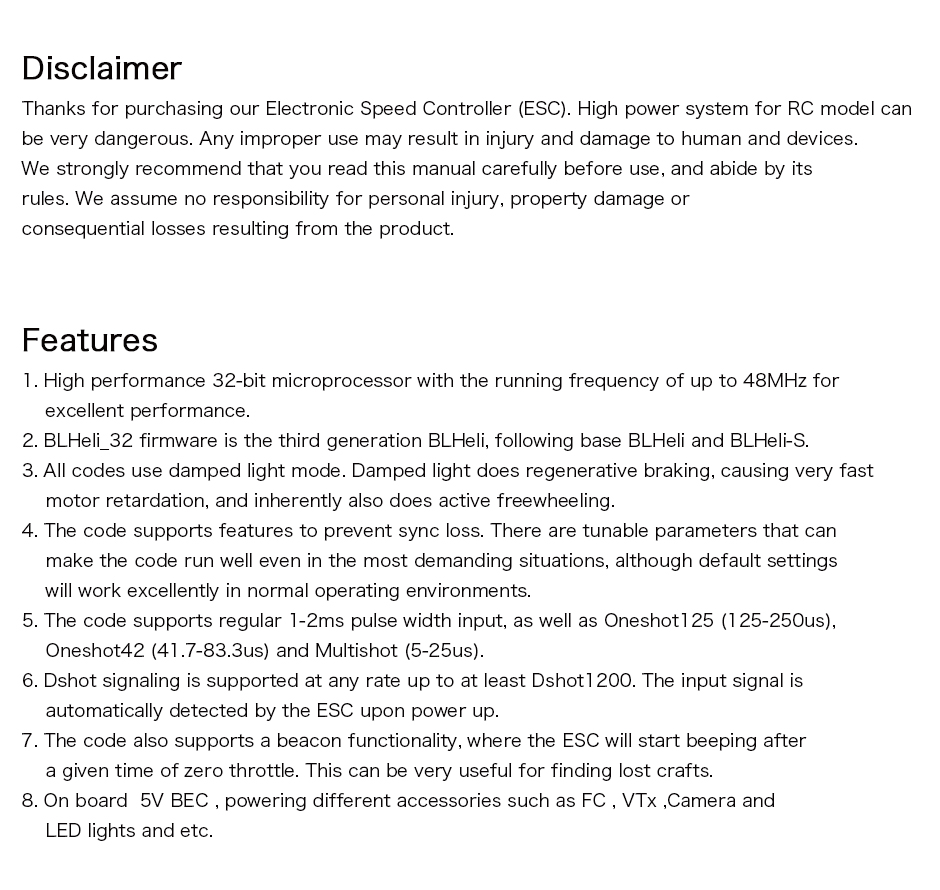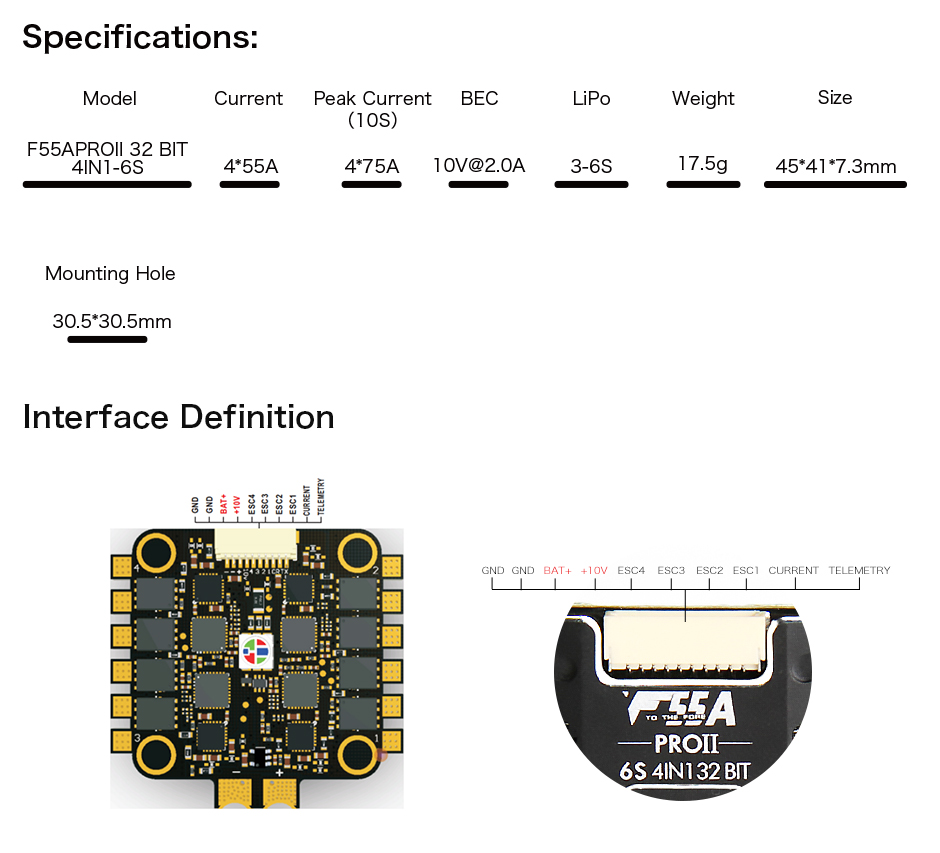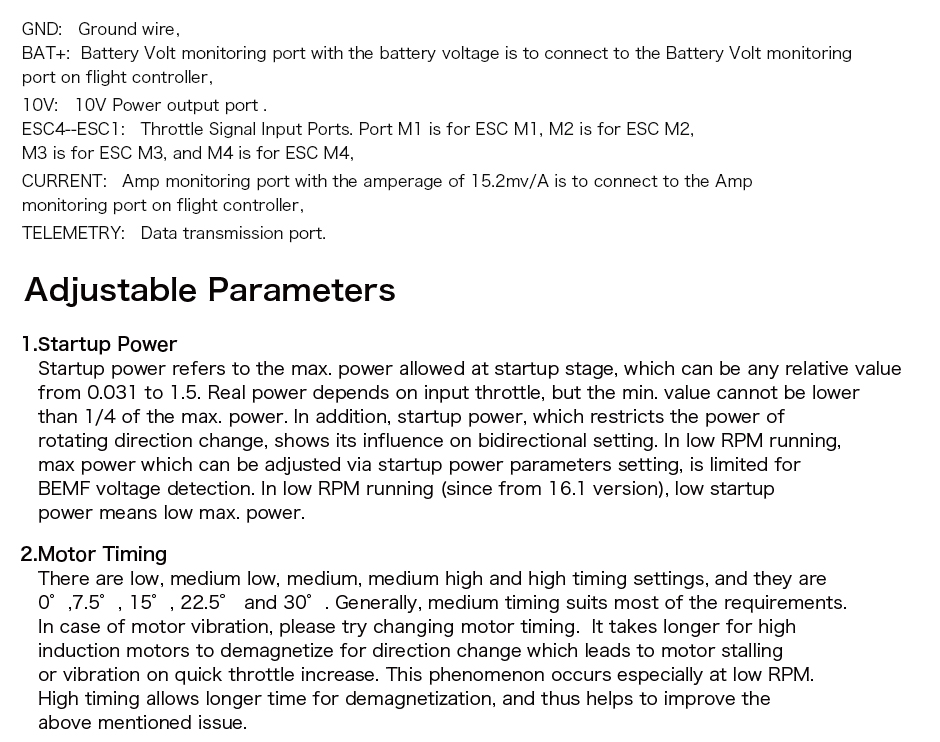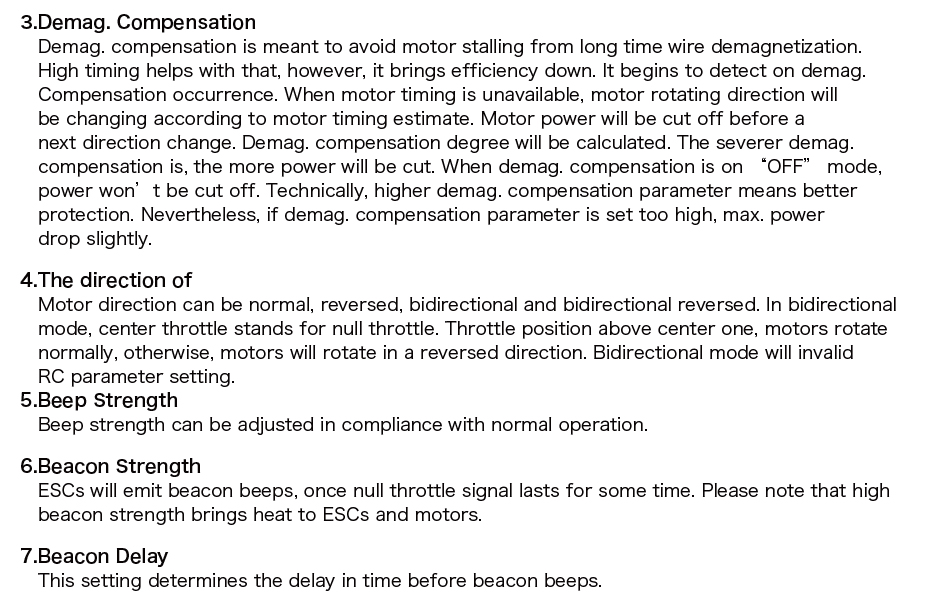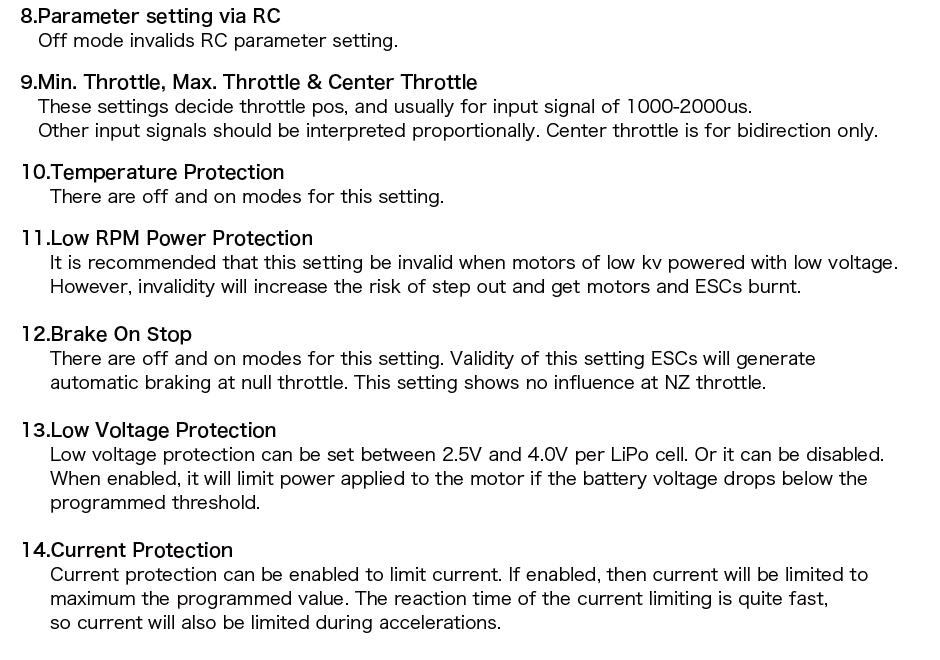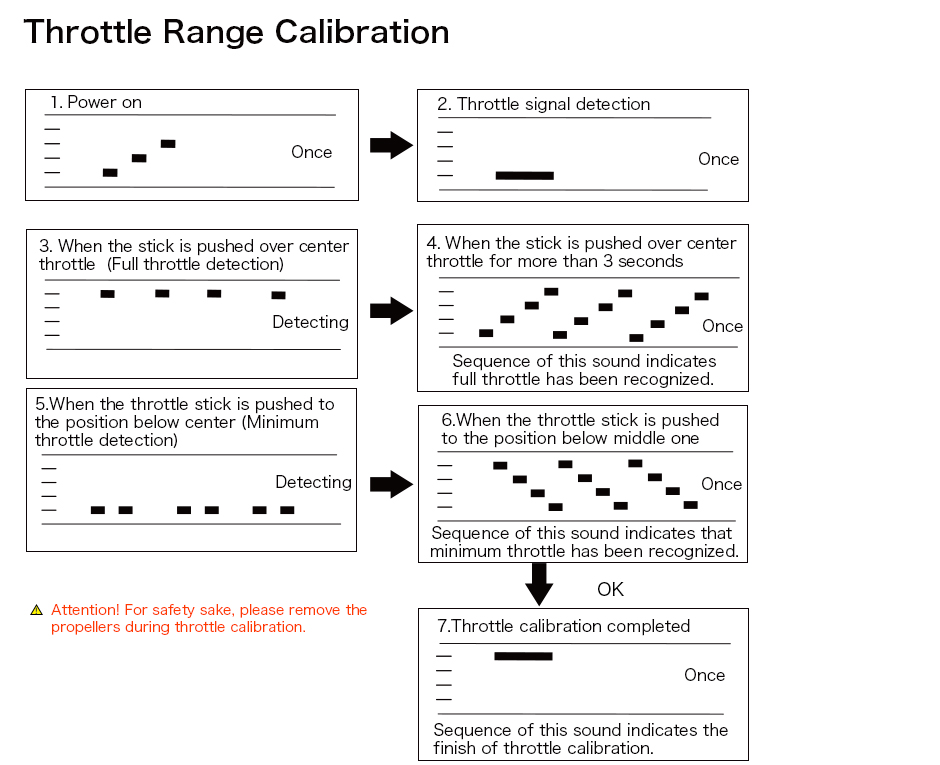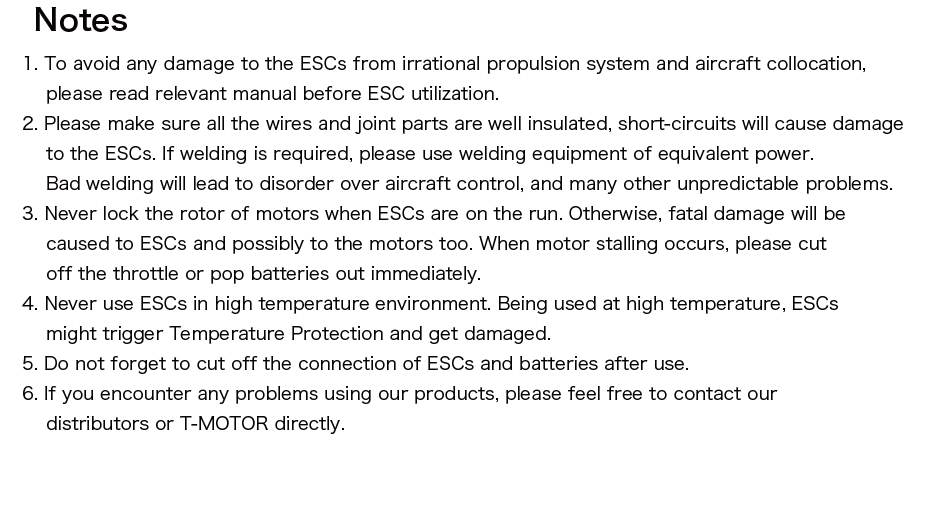 Specifications
Input Voltage: 3-6S
Max. Continuous Current: 55A
Max. Burst Current: 75A (10sec)
Firmware: BLheli32
Current Sensor: Yes
Mounting Dimensions: 30x30mm
Dimensions: 45.4x41x7.3mm
Weight: 17.5g (Including Heatsink)
Support DSHOT150/300/600/1200
Includes
1x F55A Pro II 4 in 1 Brushless ESC
5x Damping Rubbers
1x 12AWG-130MM with XT60 Soldered input wires
2x 61mm Signal wire
5x Cable Protectors
3x SH0.1mm Plugs(6/8/10)
1x Capacitor
Read More About Lipo Batteries by clicking the link below:
https://oscarliang.com/fpv-drone-guide/
Checkout our Frames Collection by clicking the link below:
https://thefpvproject.com/product-category/frames/
1S = 1 cell  = 3.7V
2S = 2 cells = 7.4V
3S = 3 cells = 11.1V
4S = 4 cells = 14.8V
5S = 5 cells = 18.5V
6S = 6 cells = 22.2V
For example, we call a 14.8V battery a "4-cell" or "4S" battery.
LiPo battery is designed to operate within a safe voltage range, from 3V to 4.2V. Discharging below 3V could cause irreversible performance loss and even damage to the battery. Overcharging above 4.2V could be dangerous and eventually cause a fire.
However, it's advisable to stop discharging when it reaches 3.5V for battery health reasons. For example for a 3S Lipo, the max voltage is 12.6V, and you should land when the voltage reaches 10.5V (at 3.5V per cell).