Ranger Nano Combo 2.4GHZ ELRS Module Specifications and Features:
Introducing the Ranger Nano Combo 2.4GHz ELRS Module: Unlocking Ultimate RC Control
In the realm of Remote Control (RC) enthusiasts, the quest for enhanced range and precision control is never-ending. That's where the Ranger Nano Combo 2.4GHz ELRS Module steps in, revolutionizing the way we experience RC adventures. With its cutting-edge technology and unmatched features, this module takes RC control to new heights.
Ranger Nano Combo The Evolution of RC Control
In the ever-evolving world of RC technology, the Ranger Nano 2.4GHz ELRS Module stands out as a game-changer. This advanced module redefines what's possible in RC control by leveraging Extended Long Range System (ELRS) technology. With a focus on expanding the control range and ensuring a stable connection, this module pushes the boundaries of conventional RC setups.
Key Features and Benefits
1. Exceptional Long-Range Capability
The Ranger Nano 2.4GHz ELRS Module boasts an impressive long-range capability that allows RC enthusiasts to explore vast terrains without worrying about losing the signal. Whether you're navigating dense forests or vast open areas, this module provides reliable connectivity, ensuring uninterrupted control over your RC vehicle.
2. Ultra-Fast Response Times
Experience the thrill of instantaneous response with the Ranger Nano module. Its ultra-fast response times empower RC enthusiasts with the precision and agility needed for intricate maneuvers and split-second decisions. Say goodbye to lag and hello to real-time control like never before.
3. Advanced Telemetry System
Stay informed and in control with the module's advanced telemetry system. Gain crucial insights into battery voltage, signal strength, and other essential data points, all conveniently displayed on your RC transmitter's screen. This real-time information empowers you to make informed decisions during your RC adventures.
4. Effortless Installation and Compatibility
The Ranger Nano module is designed with convenience in mind. Its user-friendly installation process ensures that even those new to the world of RC technology can set it up without hassle. Moreover, its compatibility with a wide range of RC vehicles makes it a versatile choice for hobbyists with various models.
Unleash Your RC Potential
The Ranger Nano 2.4GHz ELRS Module isn't just an accessory; it's a gateway to unlocking your RC potential. Imagine exploring new terrains, executing daring maneuvers, and pushing the limits of what your RC vehicle can achieve—all while maintaining a strong and stable connection.
Featuring up to 1W output, F-1000Hz refresh rates and a high-efficiency cooling system, the Ranger Micro 2.4GHz ELRS Module represents the cutting edge in ELRS technology. Attach the module to a compatible radio (RadioMaster Zorro and more) to enjoy all that ELRS has to offer.
The included T-shape antenna is designed for maximum signal coverage. An optional MOXON antenna is available for directional applications.
*Note: The Ranger Nano 2.4GHz ELRS Module fits Nano module bays, for JR style/Micro connectors, please consider the Ranger and the Ranger Micro modules. For more information on the Ranger series, please click here.
Features
High-efficiency cooling system

Wifi and Bluetooth support

Packet rates up to F-1000Hz

Up to 1Watt Power output

T-antenna included

With the Nano connector, support Zorro radio
Specification
Item: Ranger Nano Module

Regulatory Domain: ISM2400

MCU: ESP32(main), ESP8285(aux,as ESP backpack)

RF chip: SX1281IMLTRT

Frequency Range: 2400 MHz – 2480 MHz

Maximum packet rate: 500Hz/F-1000Hz (F-1000Hz mode requires EgdeTX 2.7.1 or later)

Minimum receiver refresh rate: 25Hz

RF Output Power: 30dBm for FCC, 20dBm for CE (Adjustable by LUA)

Wifi Support: Yes

Bluetooth support: Yes

XT30 Power supply voltage: DC 6V – 16.8V

Weight: 48g (with antenna) / 39g (without antenna)

Dimension: 136*42*26mm (with T antenna) / 74*42*26mm (without antenna)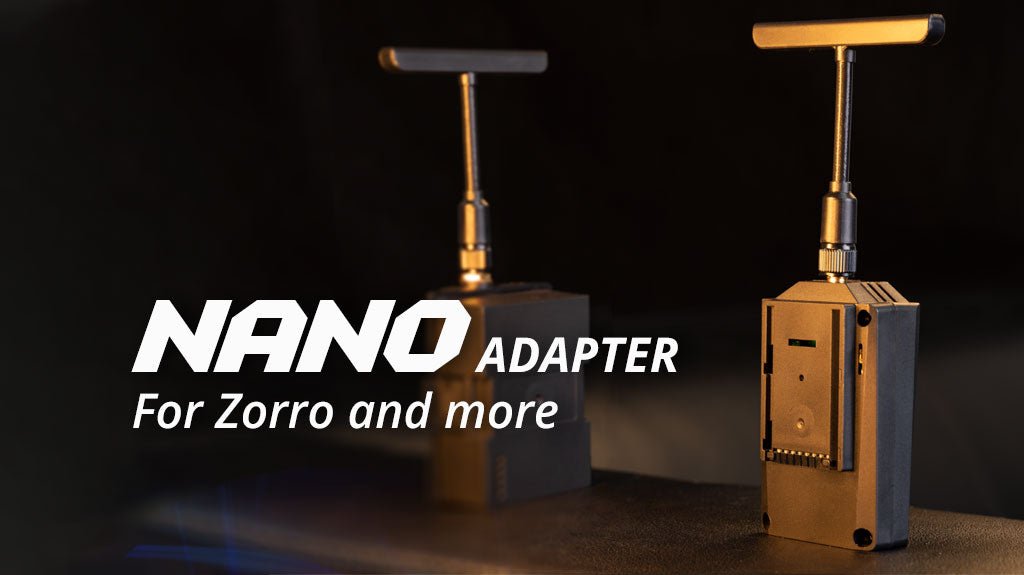 Size
Ranger Series
We wish to thank the ExpressLRS team for their support and testing during the development of the Ranger series. To learn more and support the ExpressLRS project visit https://www.expresslrs.org/
How to Replace Ranger Nano Board
Package Includes
1 * Ranger Nano Module

1 * T Antenna
Need receivers too? Purchase the Ranger Nano Combo, which includes the following items:
CHECK OUT OUR VTX COLLECTION:
What is a Video Transmitter?
https://www.easytechjunkie.com/what-is-a-video-transmitter.htm
VTX stands for video transmitter, this is the heart of the FPV life system. Pumping life into the many possibilities of FPV. VTXs come in many different shapes, sizes, strengths, and wiring setups. Strapped to the front of the quad is an FPV camera, and strapped to the head is a pair of FPV goggles. You can watch live, instantaneous footage right from the cockpit because the VTX is sending the footage received from the camera out to the goggles.
You are picking the right VTX for you. This will start with knowing if size and weight are factors for you. If you are planning to race, and only race, then you will select any VTX that is light in weight. It's probably important that your VTX can do pit mode and channel control (depending on which one you choose). This may be a smart audio feature or the tramp protocol. Pit mode is where you will be able to set your VTX to a certain mode that allows you to power up your quad without powering up your VTX to keep you from blasting video and trampling over other racers on the track. Channel control allows you to change your frequency right from your radio for easy switching at a race, or to prepare your quads for the race the next day. Seeing that range is not so much of a factor in a race, only 25mw is allowed, and all that you need. So you can pretty much pick any when it comes to figuring out which is best for you and your power output needs.