iFlight ProTek35 3.5″ HD Cinewhoop Frame Kit Specifications and Features:
This frame kit is for the iFlight ProTek35 HD Cinewhoop.
After the very popular 3-inch Cinematic EVA bumper BumbleBee and Green Hornet CineWhoop series release, iFlight continues to strive to increase performance and reduce weight by coming up with their master Protek series.
Our all-new 3.5inch project is finally ready for all you content creators or those guys who like to wear some protection every now and then. Prop protection is what we're talking about here… Durable plastic protectors with copper standoffs, portable compact design, easily accessible UBS port without disassembly, and a universal GoPro TPU for a full size or naked GoPro.
Note Frame kit only. Battery, Electronics, GoPro, and Propellers are not included.
VIDEO: Falling In LOVE with CINEWHOOPS Again! iFlight ProTek35 HD
Features
T700 Quality Carbon (40% more tensile strength compared to common 3K carbon)
Lightweight one-piece frame design (Less flexibility, more Rigid, more Durable)
Low resonance Frame Construction
ProTek35 Prop Guards V2.0
No Props or frame in view!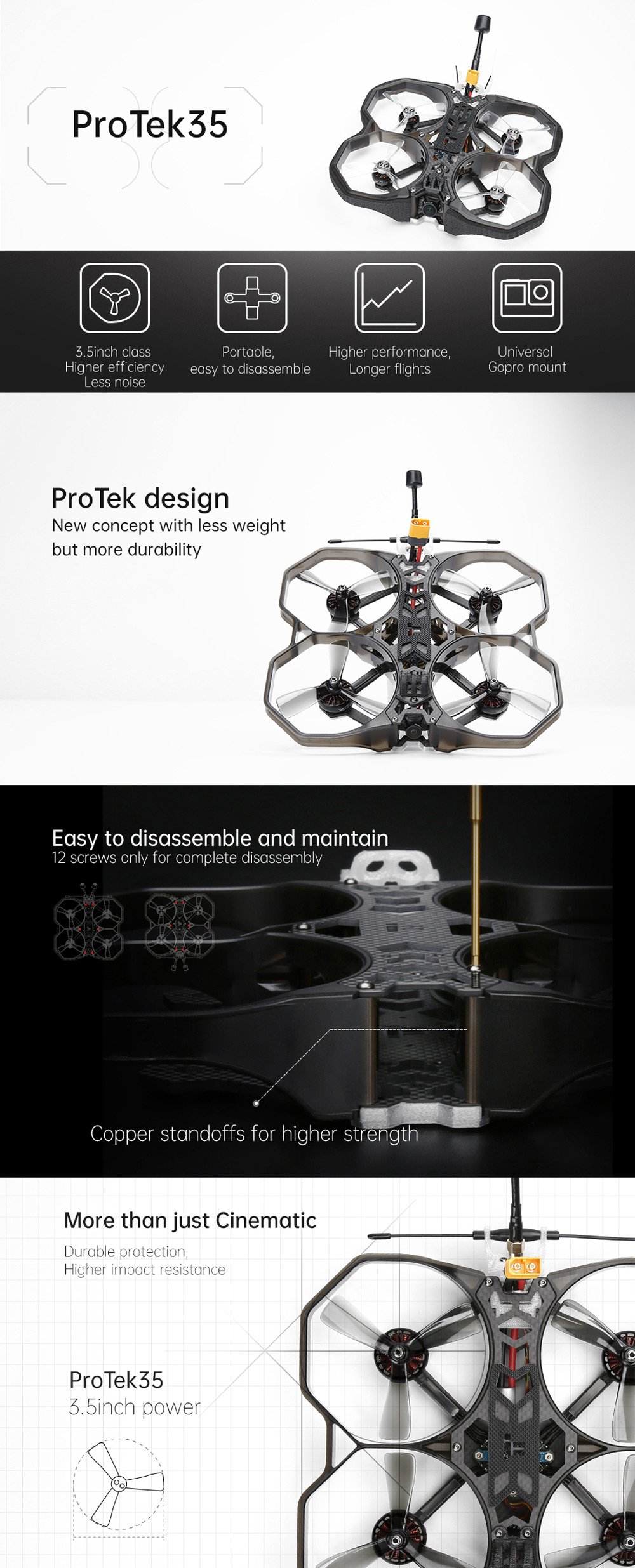 Specifications
Top and bottom plate spacing: 20mm (aluminum standoff height)
FC pattern: 25.5×25.5mm / 20x20mmmm
Mounting Pattern: 12x12mm/2mm
Bottom plate thickness: 3.5mm
Weight: 153g (without battery)
Body Size: 118×94.5mmmm
Top plate thickness: 2mm
FPV cam spacing: 20mm
Propeller size: 3.5 inch
Carbon: T700 Quality
Wheelbase: 151mm
Frame: ProTek35
Changelog
Mounting pattern 16x16mm/3 changed to 12x12mm/2
Recommended (Not Included)
Motor: iFlight XING 2203.5 2500KV/3600KV Motor (1pc)
Battery: Lumenier 1300mAh 4s 95c Lipo Battery (XT60)
Remote: DJI FPV Remote Controller 2
Goggles: DJI FPV Goggles V2
Includes
 iFlight ProTek35 3.5″ HD CineWhoop Frame Kit
1x GoPro TPU bottom stand black (GoPro Protector not included)
2x iFlight Lipo Strap 15*150mm (Color May Vary)
1x LED Board w/ 3-Pin Connecting Wire
2x ProTek35 Prop Guards V2.0
1x Carbon Fiber Bottom Plate
1x Carbon Fiber Top Plate
2x Protective Foam Strip
1x 3D Printed Parts Kit
1x Hardware Kit
2x Battery Pad
1x Allen Key
Note: Electronics, Battery, Propellers, GoPro, and GoPro mount NOT included