iFlight Green Hornet V3 3″ Cinewhoop Frame Kit
Specifications and Features:
This Frame Kit is for the iFlight Green Hornet V3 3″ Cinewhoop which features an amazing flight experience with protection if you need some! The whole frame was reduced to minimum size and weight to fit all our best analog hardware inside. There's much more this time! NEW software engineered ducts to increase power and decrease noise. Yeah, you heard right! FINALLY a CineWhoop without that high pitch noise.
MAIN UPDATES FROM V2 to V3:
Upgraded polycarbonate ducts for less noise and more durability
Upgraded EVA protectors
Note: This is the frame kit only. Electronics and other parts are not included.

VIDEO: A Quiet Cinewhoop? iFlight Green Hornet V3 – Review & Flight Footage
Features
T700 Quality Carbon (40% more tensile strength compared to common 3K carbon)
Lightweight one-piece frame design (Less flexibility, more Rigid, more Durable)
Bumper prop guards to protect the sensitive environment or yourself
Low Resonance frame construction (Less Jello, more Cinematic)
No Props or frame in view!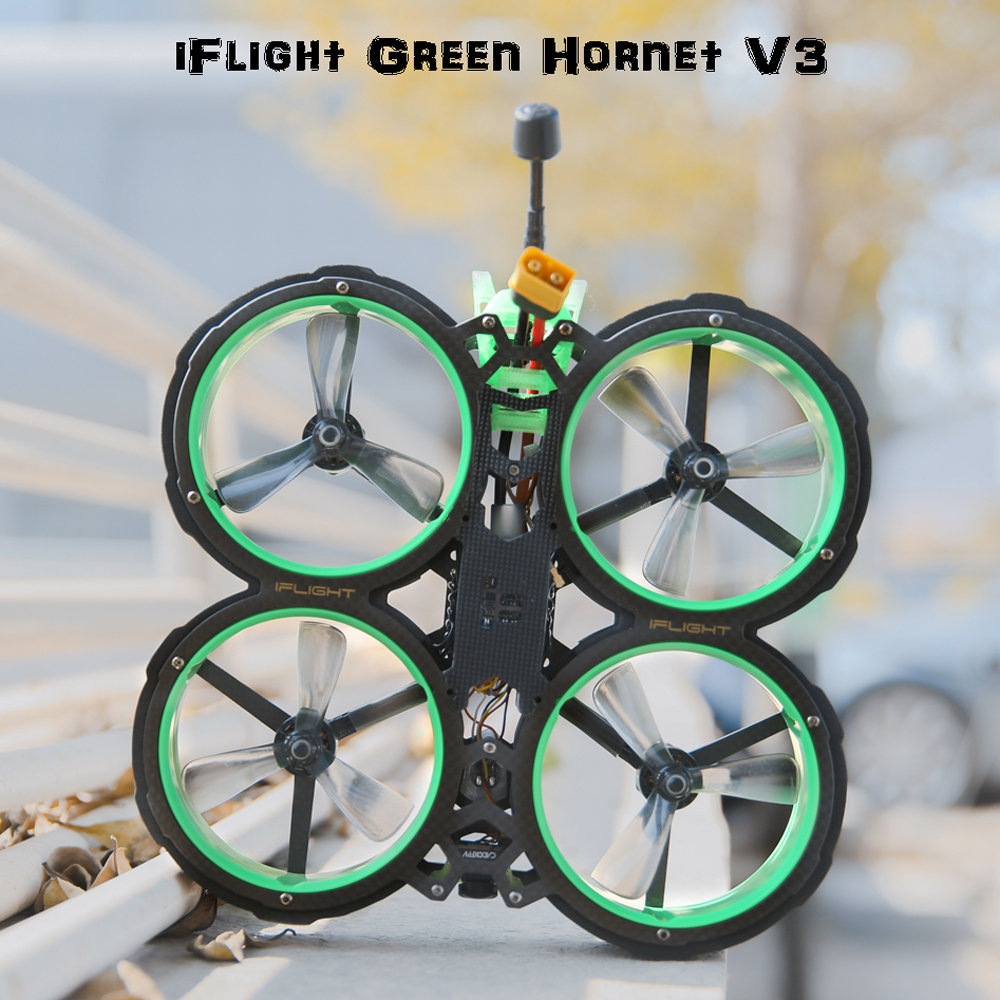 Specifications
Top and bottom plate spacing: 27mm (aluminum column height 27mm)
FC pattern: 20*20mm, 30.5*30.5mm
Frame size: 111*93mm111*93mm
Weight: 280.1g (without battery)
Bottom plate thickness: 2.5mm
Top plate thickness: 2mm
FPV cam spacing: 14mm
Propeller size: 3 inch
Wheelbase: 145mm
Recommended (Not Included)
Motors: XING 2205 4S 3200KV / 6S 2205 2300KV
Batteries: 6S 1050mAh or 4S 1300mAh
Propellers: 3040 CW CCW Propeller
Stack: SucceX-E Mini F7 35A 2-6S
Includes
1x iFlight Green Hornet V3 Cinewhoop Frame
1x 3DPrinted TPU Parts (Full Set)
1x EVA Guard Foam (Set of 2)
2x iFlight Lipo Straps
4x Ducts (Green)
1x Hardware Kit
2x Battery Pad
Note: This is the frame kit only. Electronics and other parts are not included.