HGLRC Veyron35CR 3.5″ Pusher Cinewhoop Frame Kit Specifications and Features:
The Veyron35CR 3.5″ CineWhoop Frame Kit by HGLRC is a lightweight pusher-style frame that easily supports a full GoPro camera. This frame features EVA Foam protection guards in Gray, White and Yellow.
Note: Frame Kit Only… electronics, motors, props, and cameras are not included.
VIDEO: HGLRC Veyron 35 CINEWHOOP FPV Drone Build Guide
Features:
Ultra-light and lasts super long in flying
Colorful EVA Foam Protection Guards
20×20-25.5×25.5mm mounting holes
Pusher-style Frame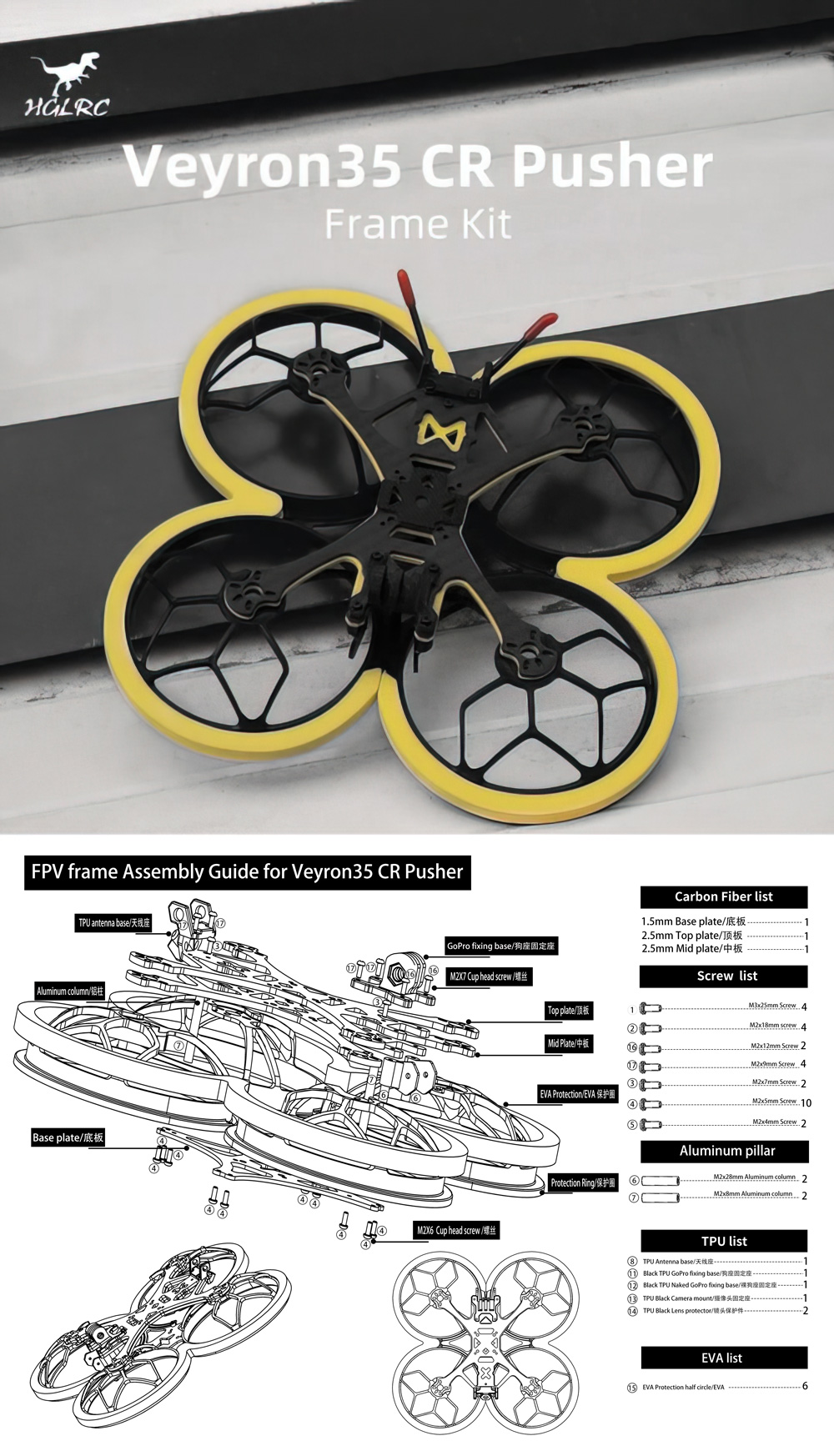 Specifications:
FC mounting hole: 20x20mm/25.5×25.5mm
Motor mounting hole:12×4/16x4mm
Model: Veyron35CR Pusher frame
Supported camera:19*19mm
Material: 3K carbon fiber
Brand Name: HGLRC
Type:3.5 inch frame
Wheelbase: 155mm
Base plate: 1.5mm
Size:131*131mm
Top plate: 2.5mm
Mid plate: 2.5mm
Weight: 113.4g
Space: 28mm
Recommended (Not Included):
Flight Controller: Zeus25/ZeusF722 mini
Motor:18XX/20XX/22XX
VTX: Caddx Vista Unit
Camera: 19X19mm
Propeller: 3.5 Inches
ESC: 25A-45A
Includes:
6x EVA Foam protection guard (2 black, 2 grays, 2 yellow)
2x M2*28mm black mesh Aluminum pillar
2x M2*8mm black Aluminum column
4x M2*O type shock-absorbing ring
4x M3*8 shock absorbing ball
1x TPU bare GOPRO holder
1x TPU GOPRO seat holder
4x 3.5-inch propeller guard
2x Battery tie 15x200mm
1x Battery non-slip mat
5x M3 self-locking nuts
4x M2 self-locking nuts
1x TPU camera mount
1x TPU lens protector
1x M5 self-locking nut
1x TPU antenna base
1x 1.5mm base plate
1x EVA landing gear
1x 2.5mm Mid plate
1x 2.5mm top plate
4x Screw M3*25
1x Screw M3*20
4x Screw M2*18
10x Screw M2*5
1xScrew M5*20
4x Screw M2*9
2x Screw M2*7
2x Screw M2*4