HGLRC AEOLUS 2004 2600KV (Set of 4 Motors)
Give your quad maximum power with the HGLRC Aeolus 2004 motor! The Aeolus 2004 brushless motors are smooth, powerful, thin, and light. Suitable for 5mm 2-hole propellers!
The HGLRC AEOLUS 2004 2600KV brushless motor is a high-performance option for aerial vehicles, with a KV rating of 2600 and 12 stator arms and 14 rotor poles for efficient power delivery and smooth operation.
It can handle a max continuous current of 25.57A and up to 6S LiPo batteries, delivering a maximum power output of 622W. Recommended for use with 2.5-5 inch propellers and an ESC of >25A, it has a compact size of Φ24.7mm x 13.2mm and a weight of 16.6g, with 4*M2-∅12 mounting holes for easy installation.
HGLRC AEOLUS 2004 2600KV Brushless Motor
Motor: KV2600
No.of Stator Arms:12N
No.of Rotor poles:14P
Max Continuous Current:25.57A
Maximum Power:622W
No.of Cells(Lipo):14.8-25V(4-6S)
ESC:>25A
Recommended Prop(inch):4-5 Inch
Motor Dimension:Φ24.7mm x 13.2mm
Mounting hole:4*M2-∅12
Weight:16.6g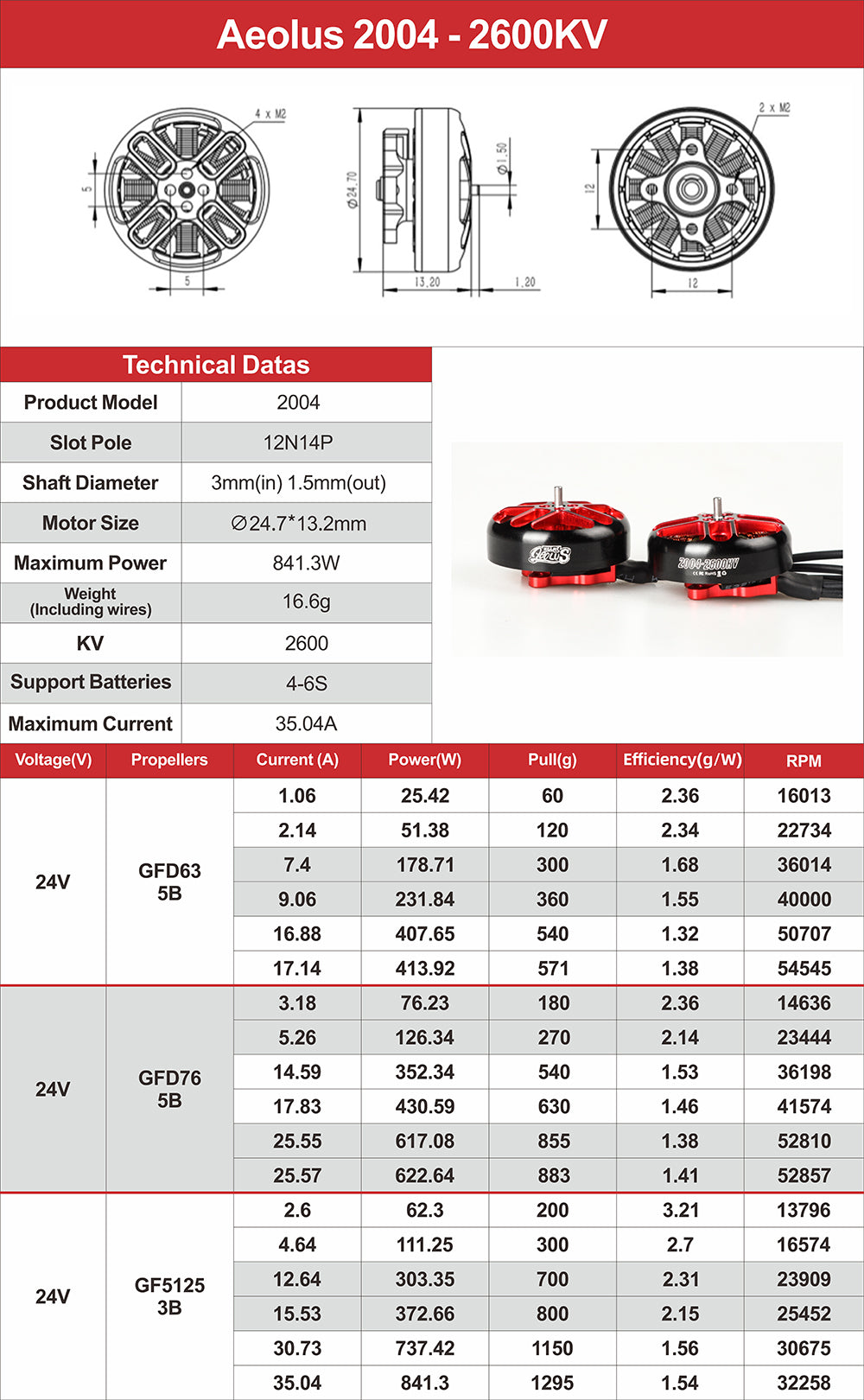 Includes
4 x HGLRC AEOLUS 2004 2600KV Motors
Discover the Best Selection of FPV Frames – Shop Now
An FPV drone frame is the backbone of your drone's build, providing stability and structure for the rest of the components. At the FPV Project, we offer a wide range of FPV drone frames for sale that cater to both beginners and seasoned pilots. It's providing a foundation for building high-performance racing and freestyle drones.
With our selection of FPV frames, you can customize and build your drone to your exact specifications and take your flying skills to the next level.
Learn More About Carbon Fiber!
https://en.wikipedia.org/wiki/Carbon_fiber_reinforced_polymer
Carbon fiber is a popular material choice for FPV drone frames due to its strength, durability, and lightweight properties.
Carbon fiber frames provide a higher strength-to-weight ratio than traditional materials, resulting in better performance and maneuverability.
Carbon fiber composites are resistant to impacts and vibrations, which helps to protect the drone's sensitive electronics and maintain stability during flight.
The use of carbon fiber materials in FPV drones also enables faster acceleration, higher speeds, and longer flight times, resulting in a better overall experience for the pilot.
Carbon fiber is also an excellent thermal conductor, helping to dissipate heat generated by high-powered motors and batteries, thus preventing damage to the drone's components.
FPV drone enthusiasts should consider carbon fiber frames when purchasing a new drone or upgrading their existing one to achieve optimal performance and durability.
Carbon fiber frames are available in a range of sizes and configurations, suitable for different types of drones, including racing, freestyle, and long-range drones.
When purchasing a carbon fiber frame, consider factors such as weight, stiffness, and compatibility with other components to ensure the best performance for your FPV drone.
Carbon fiber frames may be more expensive than other frame materials, but their long-lasting durability and performance benefits make them a worthwhile investment for serious FPV drone pilots.
The FPV Project offers a wide range of carbon fiber frames, suitable for all types of FPV drones, ensuring that enthusiasts have access to the latest technology and the best possible flying experience.